Zidane: "Keylor never told me he wanted to leave"
Zidane says Keylor Navas is an important part of his squad and says he never even entertained the possibility of him leaving.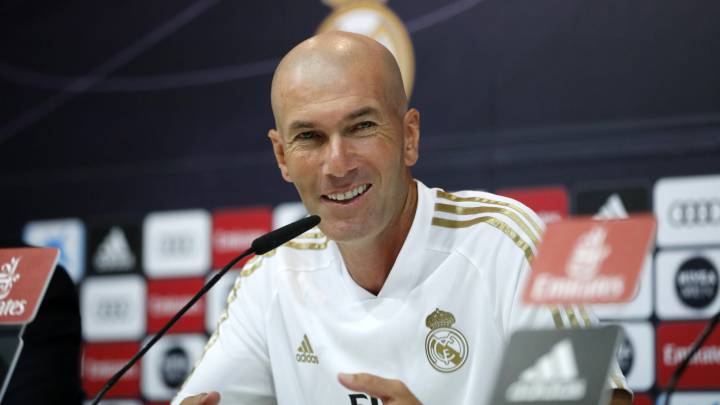 Zinedine ZIdane spoke to the media ahead of Real Madrid's game against Valladolid and says Keylor Navas is a key part of his team as rumours surrounding his future persist.
Excitement or pressure ahead of the game: "Excitement to return to our stadium after 100 days. The players are delighted to see their fans."
Keylor Navas' exit: "He is a player in the team, he's important. He has been a player and will continue to be. I never contemplated the possibility of him leaving."
Keylor asking to leave: "He never told me he wanted to leave. He is here and he wants to play, to show that he is good enough. He has always been a good professional."
Neymar possibility: "We have a game and I'm only thinking about that. That's the only thing we have in our heads."
Neymar as a difference-maker: "My players are the ones who are here and the ones that will play tomorrow. Until September 2, anything can happen, some might arrive and some might leave. I want that date to come to avoid these questions."
What has changed with Bale: "He is staying and he wants to stay. He is an important player. He has shown it and now he has to do it again."
James as a potential starter: "You will see tomorrow. We will pick a team of eleven and three can come in. We are a squad of 24."
What has changed with James: "Nothing. He is very good and we are delighted with him. I am relying on him like the rest. He is happy too."
Kubo at Mallorca or Castilla: "We want the best for the player and the solution that will be taken will be this one. I hope that he plays at Madrid."
What goalkeeper could replace Keylor: "I am only thinking about having Keylor. He is a very important player and he has shown that throughout his career. We are counting on him. This is the message I want to send. Until September 2, we will speak of players but I just want Keylor to continue this adventure. It will be very competitive."
Few people showed up last season to the Bernabéu: "The fans always want to see a winning team. We ask the fans to keep doing what they're doing and our job is the make them happy. They have lived through the bad times but also very good times. I hope they will enjoy this team."