PSG
Anti-Neymar signs painted outside PSG's Parc des Princes
Neymar is not available for the Real Madrid game but the fans are showing they won't forget what Neymar did during the summer as he looked for Barça move.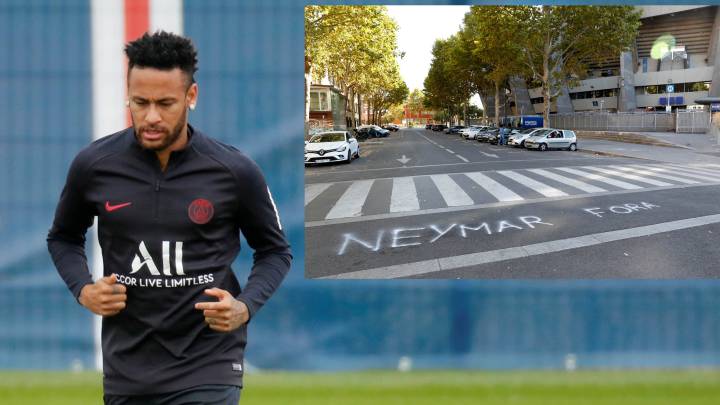 Neymar said every PSG game he would play from now on would be like an away game after he felt the wrath of the club's fans during his return to competitive action last weekend against Strasbourg despite scoring the decisive goal in acrobatic fashion.
The summer was eventful for Neymar but it didn't contain the one event he wanted; a return to Barcelona. Despite negotiations, the two club couldn't come to an agreement and PSG fans are not happy that their crown jewel asked to leave the club just two seasons after paying €222 million for him.
"Neymar out"
Various paintings against Neymar have sprung up around Parc de Princes just 24 hours ahead of their opening game against Real Madrid in this season's Champions League. "Neymar out" and "Neymar son of a ...." can be seen close to the stadium as the situation does not look set to improve ahead of the Real Madrid game.
Neymar won't be available for Thomas Tuchel in that game but he has had his suspension reduced from three games to two games after his diatribe on social media following Manchester United's win over the Ligue 1 champions last season.
The fan group, Collectif Ultras Paris, have said they won't abuse Neymar but will treat him with indifference as they refuse to simply forget that he wanted to leave the club and was even reportedly willing to cough up his own money to make it a reality.