Real Madrid defeat comforts Catalan press
Although Barcelona's disappointment in Dortmund has not been forgotten, Zidane and co made sure to push that news into the background.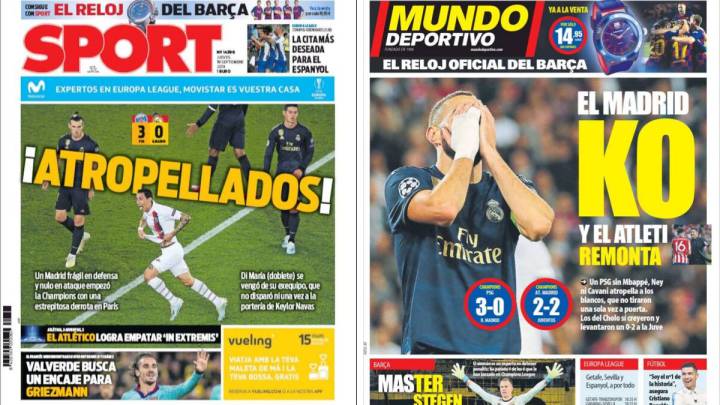 The overwhelming defeat of Real Madrid in Paris on Wednesday evening, and the manner in which it unfolded, with former Bernabéu star Ángel di Maria doing the business, has quickly displaced the talk of Barcelona's Champions League draw on the Catalan front pages.
Real Madrid: fragile and lacking
PSG were without their star trio of Mbappé, Neymar and Cavani for the group opener but ran out comfortable 3-0 winners at the Parc de Princes, with the Argentine winger grabbing a brace.
Barça's mediocrity in Dortmund on Tuesday was moved into the background as Sport splashed "Steamrolled" across a picture of Di Maria celebrating on their cover. It defines Zidane's team as "fragile in defence and hopeless in attack" highlighting that Los Blancos didn't have a valid shot on target throughout the game.
Mundo Deportivo opens with "Madrid KO" and talks about the "debacle" in Paris.
The exception is L'Esportiu de Catalunya which maintains its focus on Barça, and gives a similar description to that of Valverde's men, also calling them "fragile".