Madrid targets Neymar and Mbappé enjoy the PSG show
The two stars of the Ligue 1 giants were unable to feature in the Champions League group stage opener, but they certainly had fun in the stands.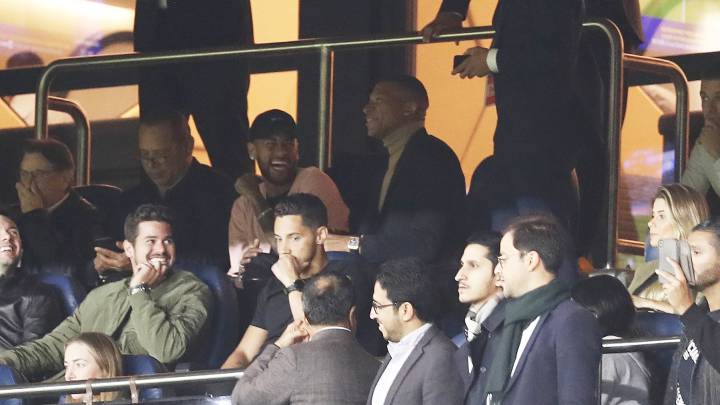 They couldn't be on the pitch, but Neymar and Kylian Mbappé appeared to have just as much fun as their teammates who could. PSG ran out comfortable winners in their Champions League opener against Real Madrid at the Parc de Princes, and that was in spite of them being without their potent attacking trident: Neymar-Mbappé-Cavani.
Neymar and Mbappé watch on
The Uruguayan striker was not in the stands, but the Brazilian (accompanied by his father) and French youngster both appeared to enjoy watching what was unfolding in front of them. The television cameras focused in on the pair again and again throughout the game, and on most occasions they were seen laughing and joking together. Both players showed that there was a good vibe between them, although their relationship has sometimes been questioned.

The transfer soap opera that was 'Operation Neymar' in the summer had the forward proclaiming his desire to leave the French capital - a decision that has seen the local fans turn against him. The twist in the final episode of the 2019 season saw a late breakdown in Barcelona being his final destination, and bitter rivals Real Madrid looking to step in.
It is, however, the French striker who is number one on Los Blancos shopping list, a player the Spanish giants have been keen on for some time, but they know they must be patient. Both of these footballing stars have been, and remain, on Madrid's radar. Both had to watch the game from the stands. And both very much appeared to enjoy the victory of their team over an opponent who is also a suitor.