Inauguration edges closer for the Al Bayt stadium
The expectation is that the unveiling can take place in December, as the venue shows off its 60,000 capacity for the Qatar World Cup 2022.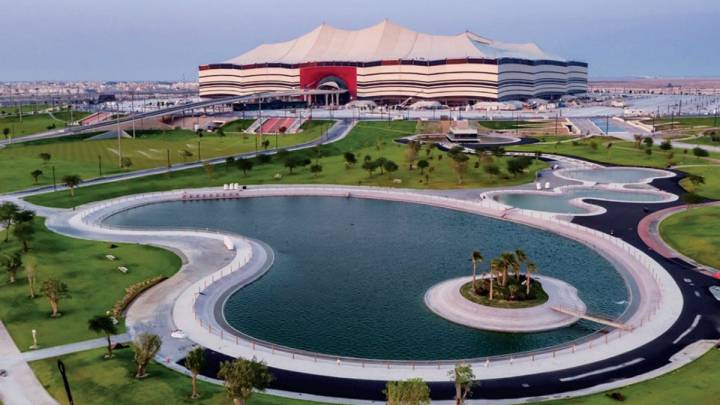 All that is left is to announce the inauguration date for the Al Bayt Stadium, which will be the third venue ready to host matches of the 2022 World Cup in Qatar. The expectation is that it will take place in December, either in parallel with the events of the FIFA Club World Cup or with those of the Gulf of Nations Cup, both of which will be held in Qatar.
With the inaugural date fast approaching, the work continues apace, ensuring all the outstanding items are dealt with. On the official Twitter account Road to 2022, the Supreme Committee of Delivery and Legacy (those responsible for projects and initiatives for the 2022 World Cup) published a photo where it can be seen that the construction of the main stand is complete.
In addition, the image clearly shows the surrounding roads, outer green areas, the lake, and all internal roads leading to the entrances of the venue as being finished.
This has all been shown while not revealing the deadline for its official inauguration, although everything points to the end of the year, with the stadium able to host some of the Club World Cup matches.
In terms of the design of the stadium, it is a mixture of the country's present and past, while keeping in mind the community needs of the future, with a number of the surrounding facilities ready to meet the societal requirements.
It should be noted that the venue has been build as model example of environmentally friendly facilities. Al Bayt will have 60,000 seats available for the World Cup, however, this will be reduced to only 30,000 after the tournament ends.
Nasser Hamad Al Hajri, the Executive Director of Al Bayt, thanked the Ashghal Public Works Authority for completing the majority of the Al Khor road, which provides the public with easy access to the Bayt and also the Lusail Stadium.