Zinedine Zidane press conference ahead of Real Madrid vs Osasuna
The French coach spoke about the team's form, concerns over injuries, and Lionel Messi winning FIFA's Best award.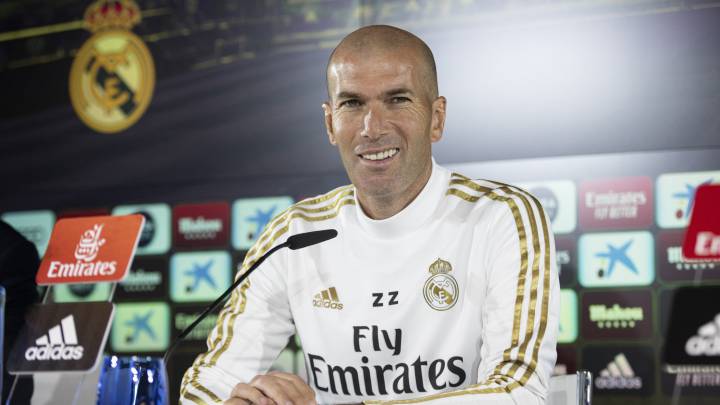 Zinedine Zidane appeared in front of the press in Valdebebas, as is customary the day before Real Madrid play, to discuss, amongst other topics, the upcoming game itself. Osasuna are the visitors to the Santiago Bernabéu on Wednesday evening in Matchday 6, and the victory in Sevilla at the weekend meant that the questioning was kind to the French coach.
Zidane looks ahead to Osasuna clash
"When we lose I am out and when we win I am in," Zidane said when asked about rumours over his future. "It has always been this way and it will continue to be.
"Tomorrow there is a game and what happens will happen. We have to have a great game, with the same intensity and the same desire. This is what interests me."
The Spanish top flight has a very interesting look to it after the opening five games and Los Blancos' manager restated his position that every game in LaLiga Santander can be tough.
"To win a game you have to play very well for 90 minutes. There are teams that are up at the top and playing well. In this league anything can happen as it has always been very competitive. This is good. This demands a lot from you in every game."
Asked whether injuries in the Madrid squad were worrying him Zidane took a pragmatic approach.
"I am not worried, but it does bother me a lot. I don't want my players to be injured.
"It is part of football that we don't fully control. We take care of our players...but we must accept that from time to time there are injuries.
"The games take a lot out of you and the players don't get much rest." He was, however, hopeful that some of those on the treatment table would be back soon.
Messi the Best not seen
With FIFA's Best awards taking place on Monday evening, the temptation to ask the Madrid coach for his views on Barcelona's Lionel Messi winning the top male award was too much for one journalist.
"I didn't even see it," Zidane replied. "It's an award chosen by the people who vote," he continued, before congratulating the three players that represented Madrid last season - Ramos, Marcelo and Modric - who were named in the Best XI.