Valverde: how 'the little bird' became a hawk against Granada
Young Uruguayan midfielder, Fede Valverde created two of Madrid's four goals and was the engine that drove Real Madrid on against Granada on Saturday.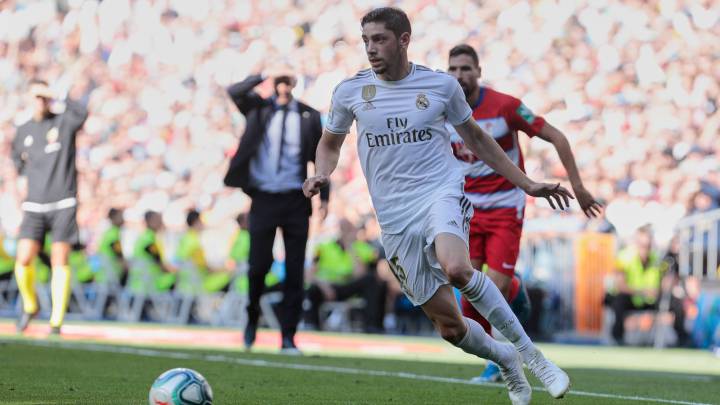 His nickname is 'El Pajarito', the little bird. But yesterday, that little bird became a hawk in Madrid's 4-2 win over Granada.
Two of Madrid's four goals came about as a result of the drive, the legs and spirit of the young Uruguayan – without Valverde, Hazard's chip and Modric's rocket would not have happened. He was the engine that drove the team on against Los Nazaríes at the Bernabéu on Saturday, a worthy contender for man of the match.
Praise from Zidane
After the performance, Zidane was full of praise for the 21-year-old midfielder. "Fede has said 'Here I am'," the French coach stated. "The boy wants to show his quality."
Praise also came from the pundits in Spanish media, from former Madrid players Jorge Valdano, who highlighted his "tremendous stride", and Álvaro Benito, for whom it was a matter of a change in attitude: "I have been saying it; he always looked shy, trying not to risk losing the ball. [Against Granda] he let loose".
Valverde performance against Granada
In a freer role than usual, with more ability to lift himself out of the position of pure midfielder, Valverde took advantage of the freedom offered to him to steal nine balls – including the one which lead to the assist for Hazard's goal (2-0) inside Granada's third, and that which initiated the play for Modric's goal (3-0), after his fight for the ball on the wing. Valverde also made three important challenges while Madrid were in defensive mode, in all of which, he won the ball.
With Toni Kroos now an injury doubt for El Clásico, and Casemiro running the risk of missing the game through suspension, Valverde has certainly put his hand up as the worthy replacement should one or both be unavailable to Zidane at Camp Nou.
His parents, Julio and Doris, were never enthusiastic about the El Pajarito moniker that has stuck with their son Federico since the beginning of his career. But it seems 'the little bird' is soaring higher at Madrid with each passing the day.