Messi on Dembélé: "He doesn't know how to speak"
Ousmane Dembélé was handed a red card for comments made to the referee against Sevilla and faces a two-match ban that would see him miss El Clásico.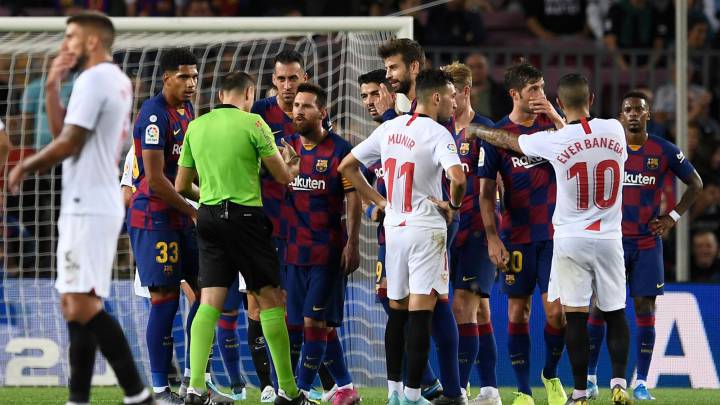 Barcelona striker Ousmane Dembélé received his marching orders for comments made to the referee late in the 4-0 win over Sevilla on Sunday.
It was the first red card of the 22-year-old's career after 147 senior professional games with Rennes, Borussia Dortmund and Barça.
When translated into English, his comment to the referee – 'Eres muy malo' (you are very bad) – doesn't sound particularly offensive. However its connotation in Spanish was enough to prompt match official Mateu Lahoz – whose expulsion of Ronald Araujo moments earlier prompted Dembélé's reaction – to issue the French international with a red card.
As a result of his comments, which were recorded by Lahoz in his post-match report, Dembélé could face a two-match ban, meaning he would miss the crucial Clásico against Real Madrid on October 26. Although Barcelona's legal team will launch an appeal to have the ban reduced should he be given a two-game sanction.
Messi footage emerges
Two days after the incident during the Barcelona-Sevilla encounter, footage released by Spanish broadcaster Movistar shows Barça captain, Lionel Messi, approaching the referee after Dembélé's expulsion, in which he says: "No sabe hablar. No sabe hablar" (He doesn't know how to speak).
Messi was presumably referring to Dembélé's poor level of Spanish and thus indicating that the Frenchman was not quite aware of the significance of what he had said to the referee.
The Argentine striker may have made a fair point and it will undoubtedly be a point that Barcelona's lawyers will raise in their appeal should Dembélé be ruled out of El Clásico by LaLiga's authorities.