REAL MADRID
Marcelo on Rodrygo, Vinicius and anxiety before Liverpool game
The Brazilian says he sees Rodrygo as a baby and says he has a lot of maturing to do and also spoke about the anxiety he felt ahead of the Liverpool game.

Marcelo discussed Rodrygo, Vinicius, his anxiety before the Champions League final against Liverpool and his season at Real Madrid in an interview with YouTube channel "Que partidazo".
12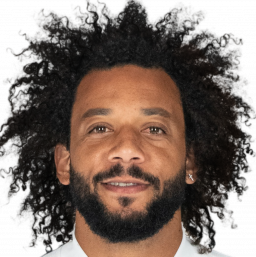 Season with Real Madrid: "The season is long. There's 50 or 60 games. We're on the right path but there is always things you can improve on. We're good though and we have all the confidence in the world."
Rodrygo: "I arrived here at 18 and I thought that I was mature because I did things on my own, but no. I see him as a baby, he is very young and hasn't lived through anything in his career yet. I'm happy for him because at such a young age, he is at the best team in the world and he has put in some marvellous performances. With the head he has on his shoulders, he will play even better games in the future."
Vinicius: "Everyone sees the comments and interpret them in their own way. Vinicius has a good head on him despite only being 19. I am not very good to give advice, I help him on the field. You can play three excellent games and then one bad one and they criticise you and demand more. The pressure at Madrid is much greater than it is in Brazil."
Advice for Vinicius: "I don't have much advice because they are mature, they are taking a step forward being at Real Madrid and they know that in every game, they have to show something because if they don't do it, it will be demanded of them."
Vinicius and the crying when he scored: "People talk, but you don't know what happens on the field. They said he cried because of the pressure they put him under at Madrid and not scoring goals, but it's impossible to know what he's thinking. It won't be the first time he'll cry or the last. I am sure that the next time he cries will be out of joy."
Anxiety before Liverpool game in the Champions League final: "The titles are important, your career is important but there's a personal side, where you get your strength from. These things are a source of energy. This game was difficult for me, I went through it and I started to value things more than I valued them before. It's something you can't control. If you can't control it then it becomes a big problem. It's something that happened and it's a story I told. You can't talk about something you haven't lived through and it served as a lesson for me. It was the third consecutive final and you'd think that I wouldn't have those problems because I played in other finals but no, it happens to millions of people. In the first final, nothing happened because everything was new. But in the others, I knew it. You have to win because when you play a final with Madrid, you have to win it. That's a massive pressure."