Van Dijk – Liverpool colossus, the connoisseurs' choice...
Virgil van Dijk was part of the Liverpool team who were crowned European champions and just missed out on the Premier League. The defence was transformed after his arrival.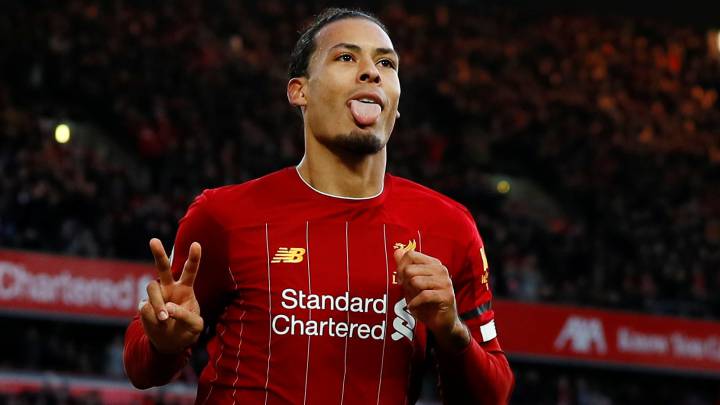 Virgil van Dijk might seem an unlikely candidate for the Ballon d'Or – an award which let's face it, usually goes to forwards rather than defenders. But no one can deny that Liverpool's towering centre-back has been outstanding for club and country during the past 18 months and his figures underline the great form he has been in.
Van Dijk, presence and power in the Liverpool back four
Jürgen Klopp would be the first to state that his side has never been about one player alone, but even a casual observer could not have failed to notice Van Dijk's impact on the team. Prior to the Dutchman's arrival in January 2018, Liverpool had been shipping around 40-50 goals per season. Last season they conceded half as many – just 22. The Reds' last defeat in the Premier League was on 3 January - they are currently unbeaten in 30 top flight matches.
Looking at the data compiled by Opta, we get a clearer idea of Van Dijk's influence. Out of the 286 one-on-one situations the Dutch centre-back has been involved in during 2019, he's come out on top in 76.2% of them – more than any other defender in Europe's top five leagues (ahead of Marcelo, Salif Sané, club team mate Joel Matip and Gabriel). Only Everton's Michael Keane (253) and Burnley's Ben Mee (237) have disputed more high balls than the Liverpool centre-back (226).
Aerial battles - Van Dijk's figures
He went a whole year without an opponent being able to dribble past him and his success rate in contesting aerial balls, according to Opta, is 86.2%. Then there is the silverware he has collected during 2019 and his achievements with the national team. Van Dijk was part of the Liverpool team who were crowned European champions, went on to lift the UEFA Super Cup and only just missed out on the Premier League – setting a new club points record as well as a new benchmark for clean sheets. With the Netherlands, Big Virg will be at next year's Euros after the team finished just behind Germany in their qualifying group.
Van Dijk has also made a valuable contribution in attack where he has played a direct part in 11 of Liverpool's goals this year, scoring eight of them himself.
Van Dijk's invaluable contribution to Liverpool and the Netherlands
But the stats and silverware are the least part of what Van Dijk offers, he has given the team security, ambition and self-belief and those are attributes which Klopp will value far more than if he does prove the bookies wrong tomorrow and defy the odds to become the second Liverpool player to collect the Ballon d'Or.