REAL MADRID | ROBERTO MARTÍNEZ
"Hazard is the Michael Jordan of football, I see him winning the Ballon d'Or" - Roberto Martínez
The Belgium coach spoke about Eden Hazard on 'El Larguero': "What he did during his time in France was at the level expected of a Ballon d'Or winner".

Roberto Martínez was one of the guests on this morning's El Larguero programme following the Johan Cruyff tribute event in Barcelona. The Belgium coach chatted about the current topics surrounding the game and spoke enthusiastically about Eden Hazard.
7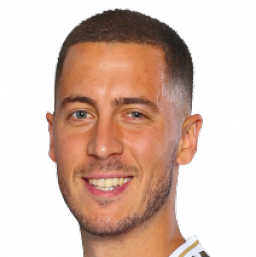 Hazard: "I see Hazard winning the Ballon d'Or, he's got everything in his favour to go on and win the Ballon d'Or. His level when he was playing in France was what you would expect from a Ballon d'Or candidate and it's always players with his profile who are up for the award. For what he's done at Chelsea, in France... It's difficult for a foreign player to be the reference in a project whose objective is to win LaLiga. He's the player who you try to get the final pass to, a Michael Jordan. Hazard is the Michael Jordan of football".
Hazard's injury: "It's an shame that he'll miss El Clásico. Hazard's injury is worse that it seems. I'm sure Meunier was devastated after the game".
Keeping in touch with Hazard: "I haven't spoken to him lately. I was at the PSG game and Eden isn't the kind of player who will leave a game for the slightest thing, I knew right away it was a serious injury. I think he may even be out for longer than it was reported at the time".
Belgium in Group B at Euro 2020, with Russia, Finland and Denmark
Spain-Belgium: "I don't like the idea of playing Spain - apart from meeting them in the final at Wembley".
Luis Enrique: "What Luis Enrique did is a lesson of life, we don't really know the full story of what happened with Robert Moreno".
Future after Euro 2020: "I don't know what I'll be doing".
Going back to managing at club level: "After 10 years practically without a day off, it's difficult understanding that now I only have 10 games a year. Right now I'm enjoying international football. When you are at a club you only look forward. I'd advise coaches to have a go at international coaching because it's very different".
Courtouis, simply the best - Martínez
Courtois is a better keeper than Ter Stegen and Oblak: "They're different. Courtois is the best in the world. There's no one like him. His presence allows him to cover angles than other keepers aren't able to do. He has amazing coordination, he has personality, he follows the action and is quick to start counter attacks... He's a modern player. It's not easy for a player to be so consistent and whatever praise I give him doesn't even begin to do him justice".
Italy: "It's sad to see what's happening in Italy, it's not racism, it's difficult to explain. Italian fans find it amusing, they think it's funny. They don't see themselves as a racist country, it's a question of education, it's unacceptable".