Real Madrid: Vinicius puts himself back on the map
49 days after his last start for Real Madrid, Vinicius took full advantage of his chance in the LaLiga win over Espanyol at the weekend.

Vinicius' Real Madrid career hit a major pothole at Real Mallorca. That evening in October, Zinedine Zidane's second-string side came unstuck in a poor display at Son Moix, going down to what remains Los Blancos' most recent defeat this season. Despite actually being far from Madrid's worst performer in the 1-0 reverse, the Brazilian turned out to be one of its chief casualties.
After Mallorca, it was as if Vinicius no longer existed...
After that night, Vinicius plummeted down the pecking order. In the next eight games, he played just 36 minutes, only making the squad for four of the matches. It was as if he no longer existed... until this Saturday, that is.
During that 49-day wait to return to Zidane's starting XI, Vinicius refused to panic. Those who know him reveal that he is utterly committed to Real Madrid and is only interested in making himself a success at the LaLiga giants. He is also conscious that he is still just 19 and that, at his age, peaks and troughs are par for the course - particularly at a club like Madrid. That's why he hasn't even contemplated the option of leaving on loan in the January transfer window.
The Brazilian, who came fourth in the race for the Kopa Trophy last week, bided his time and, when Zidane gave him his chance against Espanyol this weekend, he took full advantage. Against Los Pericos, he led the way for Madrid in the first half, playing as if he had never been away from the line-up, showing pace and daring as he attacked down the left. He enjoyed an 85-minute run-out in which he shot on target three times, had another effort blocked, completed 82.8% of his passes, won eight duels and regained possession on four occasions.
25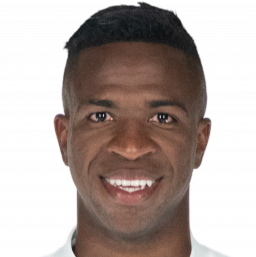 As has been a theme of his time in Spain so far, Vinicius' forward forays lacked the finishing touch, but there was clear evidence of a player starting to find his range, both in his attempts on goal - which brought the best out of keeper Diego López - and the deliveries that Karim Benzema failed to make the most of. This was not lost on Zidane, given that he was unusually fulsome in his praise for Vinicius post-match, telling reporters: "Players always want to score, but I don't ask him for goals. Today the work he did was outstanding. He did really well, both defensively and in attack."
"Vinicius is going to be unstoppable"
Vinicius' revival also brought positive words from the prominent Spanish pundit Álvaro Benito, a former Madrid player and youth coach. "I don't have any doubts about Vinicius, he's going to be unstoppable," Benito told the radio station Cadena SER. "Some players mature earlier than others. It's just a matter of him learning to offer greater end product; he's going to be unstoppable. He already is, in fact. He has supersonic speed. He has to be looked after."
Vinicius has got himself back on the map under Zidane. The question now is: Can he stay there?