Barcelona: Griezmann explains motives for Atlético exit
The Barcelona forward says winning the Champions League was not behind his motivation to leave Atético Madrid for Camp Nou.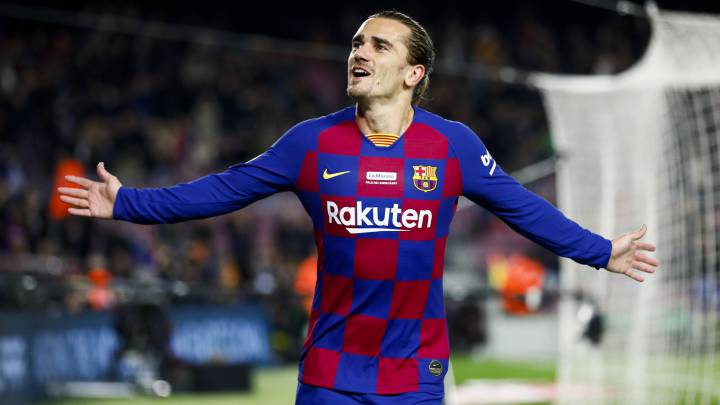 Antoine Griezmann has granted an interview to UEFA TV, in which the France international spoke about his reasons for leaving Atlético Madrid for Barcelona, his slow adaption at Camp Nou and the enduring heartache of losing the 2016 Champions League final to Real Madrid.
Griezmann has become somewhat of a hated figure among many Atlético supporters following his bitter exit. During his first return to the Wanda Metropolitano as a Barcelona player on 1 December, the French striker was the subject of intense jeering throughout the game – leaving no doubts as to where he stood with the fans that once adored him.
Atlético's claims that Griezmann signed a secret deal with Barca following Los Rojiblancos' elimination from the Champions League last season left a sour taste in the mouth of supporters, with many holding the view that he gave up on the club in search of glory with the Catalan giants.
Griezmann: titles not motivation for Atlético exit
But contrary to the belief of Atlético fans, the 28-year-old said he signed with Barcelona to learn a new brand of football and not to win trophies.
"I didn't leave Atléti to win the Champions League or to win more titles," he told UEFA TV.
"I left Atléti to learn a new game, new philosophies -- to learn another type of football with another team. Atléti could have won the league and the Champions League any year."
Atléti twice came close to winning the Champions League in 2014 and 2016, only to be beaten in the final on both occasions by local rivals Real Madrid. And Griezmann's missed penalty during normal time of the 2016 final is something that still haunts him. The game eventually finished 1-1, with Los Blancos going on to win 5-3 in penalties.
"It hurts a lot. It lost us the final… It will always hurt, even if I win it with Barça," he said. "In 10 or 15 years it will hurt the same."
Griezmann's adaption at Barcelona
Following his 130-million-euro move in the summer, Griezmann's adaption to a new type of football at Barcelona has been slow, with some commentators questioning his suitability and ability to pair up with Luis Suarez and Lionel Messi.
Having grown into the role of number nine at Atlético, the French forward now finds himself in a wide position at Camp Nou – something he also admits has been a slow adaption process.
"I have to learn a new position and also understand my new teammates. I haven't picked up the movements of Luis, Messi, the central midfielders, of my own wide position," said Greizmann before detailing his adaption to his new team mates off the pitch.
"I am a very shy person. I do not usually talk to others, but everything will come in time. I will not give a conversation but I'm getting to know Luis, Leo. We have already shared dinner and we will go to more. What happens outside the field can only help inside."