REAL MADRID
Real Madrid: Rodrygo doesn't let you down
Real Madrid have not missed a step with teenage sensation, Rodrygo, in the team and his performances in the Champions League underline that.

Rodryo has found his place at Madrid and looks far more dangerous on the field than his personality suggests. Behind the timid Brazilian is a daring attacker with no fear. He is already a talisman for Real Madrid and the club have not lost a step with the 18-year-old in the team or coming off the bench.
Madrid almost count his starts as wins. In every game he has started apart from one, the 0-0 against Betis, Real Madrid have won. Leganés, Real Sociedad and Espanyol have fallen in LaLiga. In the Champions League Galatasaray, home and away, and Brugge have also been defeated with the Brailian in the starting XI.
European football has not deterred him either. He left his business card when Zidane opted for him in the Champions League too; four goals and two assists in four games. His hat-trick against Galatasaray in his second game in the competition was spectacular and with it he became the second youngest player to score a hat-trick and the youngest to score a perfect hat-trick.
27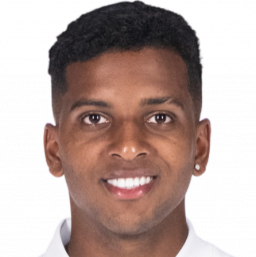 His role off the bench has not slowed him down either. In total, he has scored six goals in eight shots at goal. In his substite appearances, he scored one every 74 minutes. As a starter, he has scored five and two assists in six appearances. That's a goal every 81.28 minutes. Either way, Rodrygo is a certainty.