VALENCIA 1 - REAL MADRID 1
Real Madrid player ratings vs Valencia
Karim Benzema scored the equaliser as he came up big for Zinedine Zidane and Real Madrid once again but Courtois was the hero on the night at both ends.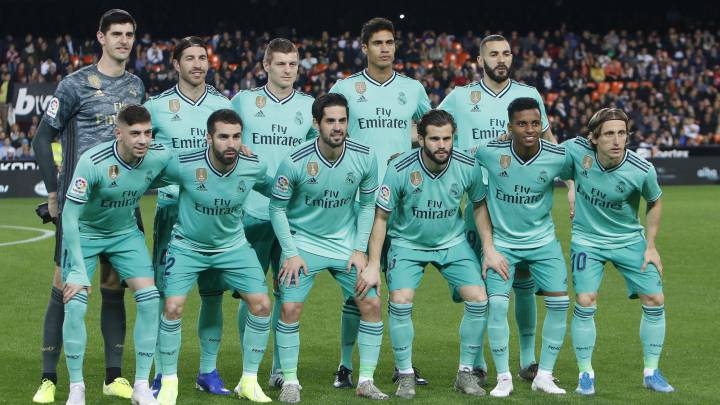 Courtois: In the first half, he failed to collect one cross he should have been closer to. But in the second he had a couple of very important saves, getting a hand to Ferran Torres' effort. He was out quick and was decisive with Rodrigo looking for a goal in behind too. Could do nothing for their goal and was decisive for the equaliser with a towering header - 9.
Carvajal: Quite tame on the right. Never really got the delivery he was looking for and suffered defensively with Gaya haring forward whenever he got the chance - 5.
Varane: Rejected Rodigo and Ferran a couple of times and had one important intervention on Rodrigo as he spun in the penalty area. - 6.
Ramos: Suffered at the back during the game with Valencia's speedy attackers and quick counter. A good game from the captain despite the pressure in the second half - 7.
Nacho: Played well in the first half but coolled off in the second. Wasn't able to stem the tide as Valencia attacked down the right and the goal came from that area after he lost out on an aerial duel - 6.
Valverde: Has earned a starting place in the side without question. Plays wherever Zidane puts him. He played in Casemiro's role and played a very complete game. Didn't attack as much due to his role as a defensive pivot and this was evident in Madrid's attack - 8.
Modric: Played well in the first half and was very involved, especially in the first half an hour. Had a nice curling effort that went just wide. In the second half, he looked a little slower and was bypassed - 6.
Kroos: Started the game at a really high level and nearly scored. He was playing very high up the field. But like the rest, he dropped off in the second half but did add something with his passing throughout - 7.
Isco: The tamest of Madrid midfielders. Not his creative self and had no influence. He was replaced in the second half for Bale and a change of pace - 5.
Rodrygo: Ran out of steam and idea. He was very involved early on had some nice chances from the left. Had a speculative shout for a penalty early too. Never got going in the second half and was removed for Vinicius - 5.
Benzema: Had one really good chance with his head in the first part that he missed. Scored with the last play of the game from a corner that he had one as he kept driving forward and trying to be Madrid's talisman - 8.
Vinicus: Came on in the second half and played on the left. Tried to create something but one of those days for the Brazilian.
Bale: Not a whole lot to say about his 20 minutes on the field. Won a free in a dangerous positions and struck it too but it hit the wall. Had a nice cross that Domenech fumbled but it was out of play before that.
Jovic: Played the last few minutes. Scored a goal that he was offside for. And he handled it in the process of controlling it too.