Klopp: "Ancelotti is one of the smartest people I've ever met"
Carlo Ancelotti's deep understanding of the game, experience and expert man-management will benefit Everton, says Liverpool's Jürgen Klopp.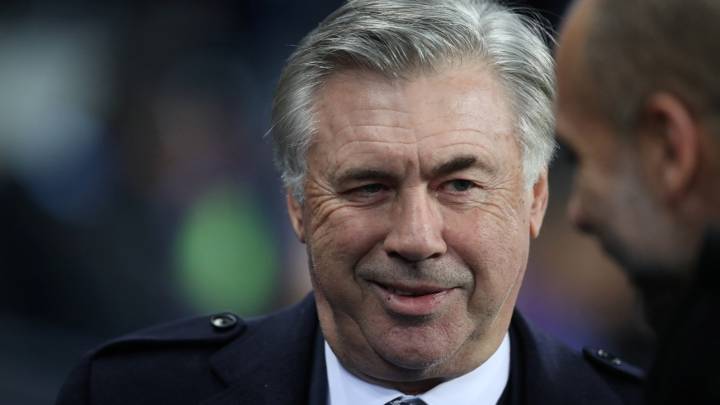 During his two seasons as coach at Real Madrid, Carlo Ancelotti never dodged questions from the media; he would always give an answer, and happily talk tactics or discuss the technical ins and outs of the game with reporters - something his predecessor José Mourinho was never comfortable doing. And not once did he put his foot in it. Faced with trick, loaded questions, he'd chuckle away and the eyebrow would go up... without a bad word to say about his players, his staff or the club - even when he was sacked in May 2015; Madrid president Florentino Pérez was flummoxed when asked to give a credible reason for the decision.
Mr Ancelotti - man management skills, experience and tactical nous
Following spells at Bayern Munich and Napoli, Ancelotti returned to England to take the Everton job. He won his first two games in charge, against Burnley and Newcastle United - the team's first back-to-back wins of the season and on Sunday, his team will take on Liverpool as both of the Merseyside club enter the FA Cup at the Third Round stage. Liverpool manager Jürgen Klopp wasn't surprised at Ancelotti's appointment. He's a confessed admirer and knows full well that the Italian will be trying to outwit him at Anfield tomorrow.
"Carlo Ancelotti is one of the smartest people I have ever met. And he would not have taken the job if he didn't have a good squad. We were always convinced that Everton's squad is good – really, really good. They have invested a lot in transfer market and brought in really good players, and it didn't work out for some reason but the combination of a good manager and a good squad helps from time to time in football. Carlo is obviously somebody who can lift the group in a moment when he enters the room," Klopp explained in his pre-match press briefing.
The right combination
"When I heard it [Ancelotti's appointment] I thought 'that's a proper combination'. He'll do well – 100%," the Liverpool boss continued. "It's still a big challenge because other teams are doing well as well. So we have to wait and see. I'll be happy to see him again. Without meeting each other constantly, we've always got on well and had a good time.
"Carlo has plenty of biographies and autobiographies and the best way to understand the person he is, is to read them. It would take too long for me to describe his qualities and what makes him special. He has a great understanding of football -everything he knows about the game, how he wants to play, how he sets up a team – mostly in a 4-4-2… good organization, using his players in the right positions, creating a very good atmosphere within the group and making the players in the squad have a good feeling about themselves. The fact that a world class manager, like Carlo clearly is, believes in them, makes it easier for the boys to believe in themselves. All of that helps".
Everton in the middle order on 25 points
In the Premier League, Everton sit mid-table in 11th and just missed out on a place in the EFL Carabao Cup final, losing on penalties to Leicester in the semi-finals. The team gained their first back-to-back victories of the campaign in Ancelotti's first two games in charge, before their winning run was cut short by Manchester City at the Etihad on New Year's Day.