Casemiro's Real Madrid debut: "Mourinho summoned me to his room...'"
The Brazilian made his Real Madrid debut against Betis on 20 April 2013 and recalled what Mourinho said to him the night before the game.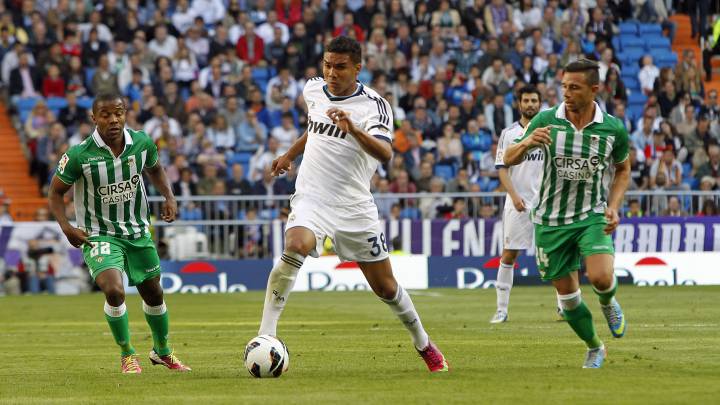 The date, 20 April 2013, will always be etched in Casemiro's memory. He had only recently arrived at Real Madrid, joining the reserves on a six-month loan from São Paulo - and forming part of a talented group of young players that included Álvaro Morata, Nacho, Jesé Rodríguez, Denis Cheyshev, Lucas Vázquez and Fabinho...
A burly midfielder for his age, Casemiro showed signs of promise right from the start - even if he was not a first choice. He was a decent header of the ball and possessed a fierce shot. Nor did he lack confidence in his own abilities. Nevertheless, it came as a shock to him when he was told he would be spending a couple of days a week training with the first team squad.
Xabi Alonso and Khedira rested, Casemiro gets the call
He explained in an interview with Líbero. "[Castilla coach Alberto] Toril called me and said: 'Case, the first team need someone and you will be training with them'. I didn't know anything about it because it was Mourinho who decided those things. I'd played a lot at São Paulo but the game in Brazil was faster, players had less time to make the right decisions. So I started training with the first team and I could see right away that it was more suited to my style of play - more patient, requiring more thought and so I stood out. I was doing well in training and I remember Mourinho was chatting to [Aitor] Karanka out on one of the pitches. I overheard Karanka saying: 'Hey, this one's a decent player'. To which Mourinho replied: 'Yes, I know him, that's Casemiro. He's already played for Brazil and he's played a lot for São Paulo...' He deliberately said it loudly so that I would hear it".
"Relax, you're in the starting XI" Mourinho tells debutant Casemiro
Casemiro found out that he had been included in the squad list for the Week 32 game against Real Betis at the Bernabéu. Michael Essien was out injured and Sami Khedira and Xabi Alonso rested for the Champions League semi-final clash with Borussia Dortmund the following Wednesday. The 21-year-old admitted that he felt a little out of his depth. "Kaká helped me when I was called up but I didn't know what I was supposed to do. He told me to stick with him when the squad met at the team hotel", he continued.
Once at the hotel, he was told by José Mourinho that he would be in the starting line-up against Betis. "On the day of the game, I thought maybe I would be given five minutes - just to make my debut or they might decide against fielding me altogether. But none of that happened. Mourinho was going to give a little team talk before lunch. But then,during breakfast, he said to me: 'Case, go to my room'. I thought: 'I wonder what he wants to say to me, I haven't done anything...' So I went to his room and he said: 'Case, I know you. I know that you have played almost 100 games for São Paulo...". I saw the tactics board and there was my name on it - in the starting XI. He pointed to it and said: 'You're going to start' Me? In the starting line-up? 'That's right, you've been playing a lot, you're a good player. Relax. Look, when you get the ball, whack it hard - the Bernabéu will love you", Casemiro added, recalling those first instructions from Mourinho.
Casemiro under Ancelotti
Madrid won the game 3-1 and Casemiro played from start to finish. However, that would be his only appearance for the first team that season. In June, Madrid triggered their option to buy him outright from São Paulo, offering him a four-year deal. With Mourinho gone, Casemiro gained more opportunities under new coach Carlo Ancelotti. He scored in the first two games of the pre-season (against Bournemouth and Olympique Lyon) and was used in the opening three LaLiga games of the season before mysteriously being dropped, appearing briefly at the end of the campaign.
Casemiro spent the 2014/15 season on loan at Porto and returned a more mature player. When he returned to Madrid, he was a first choice for Rafa Benítez but was back to square one under Zidane who he had to win over. Today, he has chalked up over 200 appearances and won 12 trophies with Los Blancos - four Champions Leagues, one LaLiga, one Copa del Rey, three Club World Cups, one Spanish Super Cups and two European Super Cups.