Catalan media wake up to Barcelona Super Cup defeat
The headlines on the front pages of the Barça press struggled to explain the semi-final loss to Atlético, but VAR got a mention or two.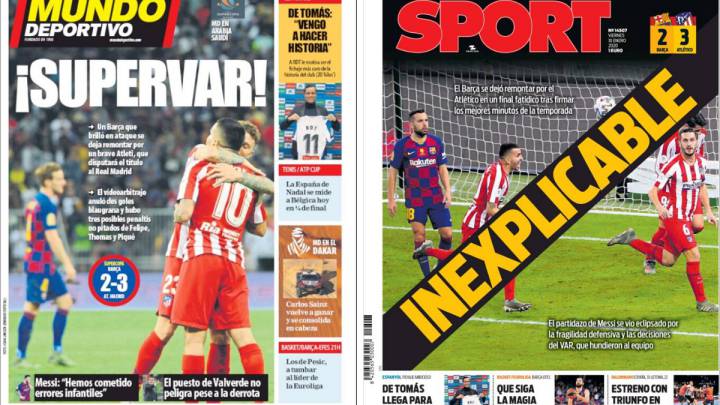 There was a sense of disbelief in the Catalan media on Friday morning following Barcelona's defeat at the hands of Atlético Madrid in the semi-final of the Spanish Super Cup in Jeddah, with some fingers being pointed in the direction of the technology being used.
VAR-celona
Mundo Deportivo's front cover made it clear where the reason for the defeat lay with a headline of: "SUPERVAR".
Meanwhile, those across at Sport were more critical of the players, without forgetting to mention the video referee. "INEXPLICABLE," they read. "Defensive fragility and VAR decisions sank the team."
As well as the discussion over VAR - which, it must be said was used to disallow two goals for uncontroversial decisions - the complaints from the journalists were more about the idea that Barça fell once again in a decisive match, and memories of that night in Liverpool cannot be shaken. There are some who write that Valverde is the issue, others that the squad is too far behind the level of their talisman, Lionel Messi, or that defensive lapses in concentration are to blame. In general, though, the feeling is that Barça have developed a losing gene.