BARCELONA
Barcelona: Jordi Alba's game-changing cameo
The left-back spent 30 minutes on the field against Ibiza but calmed Fati down, found Griezmann in deep positions and changed the midfield's positioning.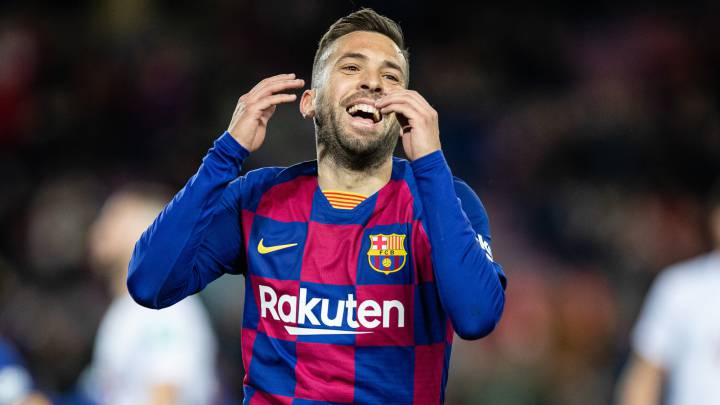 Jordi Alba has been singled out in the past on dark nights for Barcelona such as the Liverpool defeat at Anfield. Against Ibiza, however, the left-back saved Barça from a catastrophe of epic proportions. It's a near-impossible task to cram as many good events as Alba did in 30 minutes against Ibiza. But he changed the game for Setien's side. A difficult thing to do considering his role on the wing where goals are not scored from.
He provided proof that players can sometimes manage the game on the field. The first thing he did was calm Ansu Fati down. The youngster had just been fouled and with play stopped, Alba gave him the sign to just slow things down. He knew there was 30 minutes left and plenty of time to come good.
Alba's instructions change the game
The 30-year-old also gave Lenglet instructions. Barça had tried no long balls during the game and rarely gotten in behind Ibiza's defenders. Alba stretched the play and caused concern for the home side. He also freed up Fati and Griezmann as he found them deep in enemy territory with some good passes. One of those passes was the goal that gave Barcelona the lead and saved them from an embarrassing upset.
Alba spent a half an hour on the field and a half an hour managing the game with orders to his teammates. He asked Riqui Puig, Rakitic and Vidal that when they played in a line of four to push up higher. Setien played in a 3-1-4-2 with D Jong behind the midfield. Semedo and Alba opened up the field and Vidal and Arthur were in the centre moving the ball.
In the 94th minute with the clock ticking down, Alba found Griezmann with a Messi-like pass. You'll rarely see a 30-minute cameo as influential as Alba's on Wednesday night.