Vinicius: "I never thought about leaving Real Madrid"
The Brazilian told Esporte Interativo that his plan was always to continue at Real Madrid: "My form might drop at another club".

Vinicius sat down to chat about current affairs at Real Madrid and the possibility of representing Brazil at this summer's Tokyo Olympics in an interview with Esporte Interativo.
Copa América or the Olympics? "If only I could play in both… It's the last chance for me to play at the Olympics, I want to win an Olympic gold medal and go down in history with the national team".
25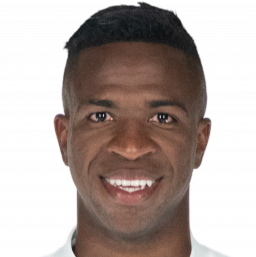 Vinicius' Olympic dream
Will Real Madrid let you go to Tokyo? "I don't know. We haven't spoken about it yet. We'll see what's best for the club and for everyone else".
A few ups and downs after an injury-hit first season: "I've been relaxed about it, just with my family and thinking about the club and playing. I found my best form during the season and I don't think I was playing worse when the season started. It was a bit difficult when I was playing less but the club always showed me support and put my mind at rest. I knew my time would come, and some of the best games have come in January and February so we need everyone in the squad".
Possibility of going out on loan: "That never entered my mind; I know that in football, things can change from one minute to the next during a game so you have to keep calm. Sometimes you might think about going to another club but that is very difficult to do halfway through the season. I never thought about it. I always wanted to stay here, give my best and get back playing well with the best players in the world. I think if I'd gone to another club my training and game might have been affected".
Relationship with Zidane during the difficult moments: "I think it's difficult for him - despite there being a lot of players here. He's always given me the belief I need to have peace of mind and so that I'm mentally prepared for whatever happens. He's always telling me that I'm going to score. He's helped me a lot".
Vinicius - Zidane helps me a lot
Zidane's faith in the squad: "He has faith in all of the players and if a player doesn't have faith in himself, he can tell and takes them off; he never plays the same team all the time. He gives the whole team support so that they have the self-confidence they need when they're called on".
Does Zidane explain what you did well or badly in games? "Yes, he'll play a video to show what we did well, what we got wrong and some of the things we need to improve. It's been working well and he's helping all of us. This season we have conceded fewer goals that anyone else in LaLiga, so the results are there to see".
Neymar says he wants to play at Copa América and the Tokyo Olympics. Where will Brazil need him most? "In both. We always need Neymar. He could play at both and help the team".
Neymar, Ballon d'Or: "Yes, he could be voted the best player on the planet, if he avoids injury, he can play a lot and win a lot. He can also play and win things with Brazil; it's always good playing with Neymar".
What's written in the press: "Opinions change very quickly. In November, they said I was one of the worst players and now they say I'm one of the best".
Real Madrid's Brazilian players
Rodrygo and Vinicius: "There's enough room for all of us here although getting to play all the time is tough. It's difficult for the players and difficult for the coach. Zidane rotates the team quite a lot so that we all play more or less the same number of games and get the same playing time. It all evens out over the season. Rodrygo helps me and I help him. He was my friend in Brazil and I'd like to play with him in the national team".
Rodrygo, best friend: "Yes, him and all of the other Brazilians. I met up with Rodrygo and Militao outside of work. Rodrygo and me are the same age".
Are you worried about losing your place now Hazard is fit again?: "I'm happy that Hazard's back. He's another player who Zidane can call on and I'm sure he'll show we've been lacking his quality out on the wing - he's going to help us alot this season. We want everyone in the squad to be fit to play".
Playing on the right wing: "You don't play in the same way. I have to improve a little because I've never played out on the right before but sometimes I have to here at Real Madrid. Everything's much easier for me on the left, I know what I have to do but it's more difficult for me on the right wing".
The Bernabéu crowd: "They liked it when I got the ball and went straight for goal at the end of last season. They support me and make me feel happy. I want to pay them back with lots of goals and by winning trophies here".
Criticism for scoring few goals: "I scored a lot of goals with the youth team but here, I'm playing further away from goal and it's a bit harder. But I'm still only 19. I'm improving and the more experienced players are really nice about it - they tell me not to let it worry me. I shoot from distance like Sterling does, - he's a player I look up to. He wasn't a big goal scorer when he started out but this season I think he's got 15 or 16 and he is always improving on his previous season. I know that the goals will arrive eventually. Zidane is right by me in training and helps me through my finishing and movements. It's much easier having a coach who was a player himself. He helps me a lot - on and off the pitch".
Have you spoken to Reinier? "Not yet - I think he arrives on Friday or Saturday. I'll chat to him when he gets here. It's difficult talking on the phone but once he's living close by it will be nice to have another Brazilian with us in the squad".