1

3
ES Tunis 1-3 Zamalek: CAF Super Cup 2020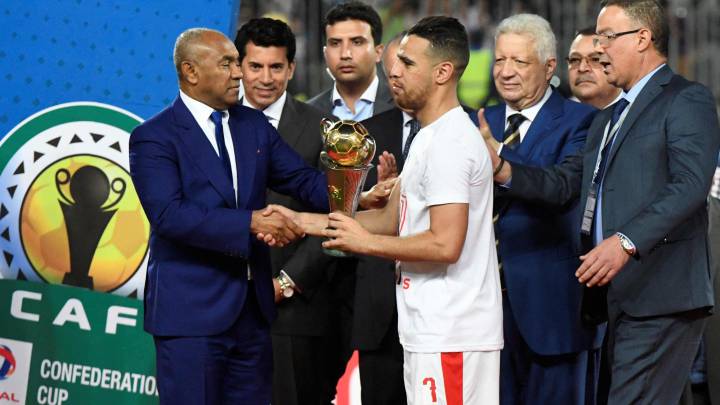 ES Tunis 1-3 Zamalek: as it happened
Peep peep peeep! It's all over! Zamalek win the CAF Super Cup!
ES Tunis certainly contributed their fare share towards making this a watchable, well-contested Super Cup - but, save for the brief second-half period when Abdelraouf Benguit's penalty had them back on terms, they found themselves playing catch-up throughout the clash in Qatar.
In the end, Zamalek's greater incisiveness in attack told, and the Egyptians lift the CAF Super Cup for the fourth time in their history!
That's all from me - thanks for reading.
Goooal! 3-1 to Zamalek! That's that!
As ES Tunis pour forward in search of a late, late leveller, a fast Egyptian break is worked to Bencharki in space in the box, and his dinked finish gives Ben Cherifia no chance! It's Zalamek's trophy!
Six minutes of time added on. ES Tunis continue to push for an equaliser, winning a free-kick in the right-hand channel that Benguit will deliver into the box... But with pretty much everyone forward, Benguit's ball can't trouble the Zamalek defence.
Elhouni drifts an inviting ball towards the back post, where a gaggle of red and white shirts are waiting to turn the ball home... but Abougabal is out fantastically to punch clear!
Zamalek replace Emam with Abdel Ghani. That's their third change, as I neglected to tell you that Mohamed was taken off for Ounajem two minutes ago.
Hammouda strides forward and fires low at the Zamalek goal from 25 yards or so, and Abougabal has to look very lively to beat the shot away! ES Tunis are throwing the kitchen sink at Zamalek now, but the Egyptians are holding on...
Benguit clips a ball into the box, but Zamalek clear. Back come ES Tunis, though, Chetti lofting over a cross that's headed in... but the flag is up! Offside!
Zamalek finally make their first substitution. It's a defensive one, unsurprisingly, as Patrice Carteron brings on Abdallah Gomaa for Zizo.
Ufff! Obama again fizzes a venoumous shot towards the ES Tunis goal, but it flies just wide of Ben Cherifia's right-hand post.
10 minutes stand between Zamalek and their fourth CAF Super Cup.
Ben Choug immediately has a chance to get a shot away from just outside of the box, but it's well blocked.
If ES Tunis can find an equaliser, remember, there will be no extra time. It'll be straight to penalties.
That's Outtara's final involvement. He's replaced by Fedi Ben Choug in what is ES Tunis' third and final change.
Zamalek boss Patrice Carteron is yet to shuffle his pack at all.
There's a shooting opportunity for Benguit, but he slices it well wide! It was Outtara that cut it back for the midfielder, who should have done better from the edge of the box.
ES Tunis made their second substitution before those two Zamalek efforts, by the way, Bensaha making way for Mohamed Ben Hammouda.
That's a fine save from Ben Cherifia, one that keeps ES Tunis in this contest!
Youssef Obama scampers towards the Tunisian box before firing in a low shot that's flying into the bottom corner, only for the ES Tunis keeper to beat it away!
Moments later, Mohamed heads a corner over.
Bensaha looks to find Outtara with a threatening right-wing cross towards the back post, but the ball is easily shepherded away by the Zamalek backline.
ES Tunis have 20 minutes to get themselves a second equaliser.
Benguit fires a shot on goal, but it hits off team-mate Bensaha, who was in an offside position.
Goalscorer Bencharki is booked for an offence which, I must confess, I missed.
We have a prolonged break in the play as Abdul Shafi receives treatement for a blow to the head. He looks like he'll be OK, though.
That is Bonsu's final contribution to this Super Cup, as ES Tunis coach Moïn Chaabani responds to going behind by replacing the midfielder with forward Taha Yassine Khenissi.
...but just as ES Tunis look to be in the ascendency, Zamalek hit straight back to regain the lead!
Bonsu plays a sloppy midfield ball straight to Bencharki, who picks it up, drives at the Tunisian defence and curls a low shot across Ben Cherifia and into the bottom corner!
Back come ES Tunis in search of a quickfire second, Chetti sending over a cross that Bonsu can't quite get his head on.
Moments later, Elhouni strides towards the Zamalek box but, from a good shooting position, lashes a drive over.
It's anybody's Super Cup.
Gooooal! After an interminable wait, Benguit thumps his spot-kick into the top corner, sending the goalkeeper the wrong way! All square in Qatar!
Penalty given! El Wensh is booked for the handball.
Ah, but wait. ES Tunis are claiming that the original shot hit El Wensh's arm... and referee Victor Gomes goes over to the pitchside monitor to have a look at it!
ES Tunis start the half on the front foot, Bonsu winning a corner. One corner becomes two, and the second is finally worked to Elhouni to shoot from the edge of the box.
His strike rebounds off Zamalek defender El Wensh, and falls to Outtara - whose shot is saved by Abougbal! A decent chance for the striker there!
Peeeep! Back underway. No half-time changes for either side.
Peeep peeep peeeep! That's half time at the Thani bin Jassim Stadium, where Zamalek lead through Youssef Obama's second-minute header.
After total Zamalek domination for the first 10 minutes or so, ES Tunis came right back into the game and might have got themselves level, particularly when Kwame Bonsu twice dragged inviting shooting chances wide.
However, Zamalek also spurned excellent opportunities late on in the first half, and could just as easily have gone in for the break leading by more than just the one.
Two minutes of time added on.
Coulibaly gets the first booking of the game, earning a richly deserved yellow for bringing back Obama as he advanced towards the ES Tunis box.
A free-kick opportunity for Zamalek... and Sassi strikes against the wall and out for a corner, which ES Tunis deal with.
ES Tunis have really grown into this first half after conceding so early, but Zamalek could have put themselves out of sight with the chances that they've had in the past few minutes.
Again Zamalek should probably have a second! First, Zizo spins and shoots on the edge of the box, forcing a smart reaction stop from Ben Cherifia.
The parry is only as far as Bencharki, though... but he can only turn the loose ball over the bar from 10 yards out!
What a chance for Zamalek! The Egyptians should really be 2-0 up!
The ball is cut back from the left into the ES Tunis box, where Zizo is in acres of space at the back post and has time to control and shoot - but it's blocked on the line!
There was a crowd of red and yellow shirts in the goalmouth, and it was Chetti who got his body in the way of the strike.
Bonsu lofts a through ball for Bensaha to chase into the Zamalek box, but Abdul Shafi is there with a perfectly timed tackle to deny the Algerian.
ES Tunis do manage to test Zamalek goalkeeper Abougabal this time, though. After the Tunisians' initial free-kick attempt is blocked by the Egyptian wall, Benguit gathers up the loose ball and sends in a shapshot that Abougabal grabs hold of. It was just too close to him.
Elhouni does a couple of stepovers and clips the ball low into the Zamalek box, but it's cleared with the minimum of fuss.
Zamalek are a side unbeaten in 12, a run that stretches back to mid-December and has included eight clean sheets; so ES Tunis will need to show more invention than that if they're to breach this defence.
Yacoubi fouls Mohamed, and Zamalek have another dead-ball chance to swing it into the box. Zizo takes once more... and can't beat the first man. A waste.
Just as I say that, Mostafa Mohamed gets another opportunity to strike on goal for Zamalek, and isn't far away. The 22-year-old picks up the loose ball 30 yards out, and drills a drive towards Ben Cherifia's top corner - but it's just a couple of yards off target.
It's pretty much all ES Tunis ball now. The Tunisians have really settled into this clash after a wobbly start.
Zizo clips a Zamalek free-kick into the area that is headed straight at Ben Cherifia, before ES Tunis again carve out a shooting chance for Bonsu!
Elhouni is the provider once more, laying the ball back to the midfielder just outside of the box - but again he drags his effort wide.
Back come ES Tunis, whipping a delicious right-wing ball into the area that Outtara can't quite get on the end of.
After all-out Zamalek domination in the opening 10 minutes, it's much more open now.
Having almost conceded an equaliser, Zamalek aren't far away from doubling their lead. Mostafa Mohamed chests the ball down on the edge of the box, swivels, and pings a dipping shot from range that flashes just over Ben Cherifia's bar. A very decent ping.
Should be 1-1! ES Tunis have enjoyed a much better last three minutes or so, and cut Zamalek to ribbons here.
Ouattara feeds the ball into Elhouni's run towards the byline, and his cut-back lays it on a plate for Bonsu, who's arriving in the box at pace... but he drags his shot just wide!
Encouraging for the Tunisians, though.
That's a bit better from ES Tunis. Chetti gets himself into a crossing position from the left and fizzes a ball in towards the back post, where Abdul Shafi has to look alive to clear the danger.
10 minutes in, and it's been the ideal opening period for Zamalek. ES Tunis have scarcely made an impression on proceedings thus far.
Looking at the replay of that Obama header, it was nodded down firmly enough, but it was right at Ben Cherifia; the Tunis keeper might have done better with that.
Sassi looks to play it between the lines for Zizo to get a run at the ES Tunis defence, but it's blocked, and the Tunisians get themselves a momentary breather.
It's been absolutely all Zamalek in these first five minutes; ES Tunis have barely been out of their half.
And we have an early goal! Zamalek lead inside the first two minutes!
Abdul Shafi gets to the byline and swings over a lovely cross that Obama nods down and into the net past Ben Cherifia!
Peeeep! We're underway in Qatar!
Zamalek back in Super Cup after 17-year absence
Zamalek's Confederation Cup victory was their first continental silverware since winning the CAF Champions League 18 years ago, so this is their first appearance in the Super Cup since back in 2003.
The Egyptians lifted the trophy for the third time in their history that year, after beating Wydad Casablanca 3-1 in Cairo. ES Tunis, meanwhile, have claimed the CAF Super Cup just the once, back in 1995.

Zamalek at Super Cup after Confederation Cup shoot-out win
Meanwhile, five-time African champions Zamalek secured the CAF Confederation Cup, the continent's second-tier club competition, with a penalty shoot-out triumph over Morocco's RS Berkane after May's final ended 1-1 on aggregate.
ES Tunis' second straight CAF Super Cup appearance
As back-to-back winners of the CAF Champions League, ES Tunis were also involved in last year's Super Cup, a clash that saw them go down 2-1 to Raja Casablanca at the Thani bin Jassim Stadium in Al Rayyan, Qatar - which is also today's venue.
Indeed, CAF has an agreement in place with the Qatari FA for another Super Cup to be held in the Asian nation after this one, too.
ES Tunis in Super Cup after controversial CAF Champions League win
It's fair to say that ES Tunis' CAF Champions League win, which was their second in a row, came about in farcical, controversial circumstances, after they were awarded the trophy when the second leg of their final with Wydad Casablanca was abandoned.
With the Tunisians leading 1-0 on the night and 2-1 on aggregate, Wydad refused to play on after a faulty VAR system meant officials were unable to rule whether or not an equaliser for the Moroccans should stand.
A less than glorious way for the 29-time Tunisian champions to claim their fourth African title.
Zamalek team news
Starting line-up: Abougabal, Emam, El Wensh, Alaa, Abdel Shafi, Sassi, Hamed, Obama, Bencharki, Zizo, Mohamed
Substitutes: Fathi, Kassongo, Gomaa, Ounajem, Hassan, Abdel Ghani, Awad
ES Tunis team news
Starting line-up: Ben Cherifia, Derbali, Yacoubi, Chemmam, Chetti, Bonsu, Coulibaly, Benguit, Bensaha, Ouattara, Elhouni
Substitutes: Jeridi, Mbarki, Ben Romdhane, Ben Hammouda, Ben Choug, Khenissi
ES Tunis and Zalamek line-ups confirmed
The team news is in ahead of our 17:00 CET kick-off, so let's get to that first:
ES Tunis vs Zamalek: welcome one and all
Good afternoon!
Welcome to our live coverage of the 2020 CAF Super Cup, the 28th edition of the annual match-up between the winners of Africa's two major continental trophies, the CAF Champions League and the CAF Confederation Cup.
This year's two teams are Tunisia's ES Tunis, who claimed their fourth African title when they won the CAF Champions League in May, and Egypt's Zamalek, who lifted the CAF Confederation Cup for the first time last season.
.