Real Madrid round-up: Mendy, Bale, Casemiro, Odegaard...
We bring your daily digest of bite-size Real Madrid news, featuring Ferland Mendy, Casemiro, Martin Odegaard and Clásico talk.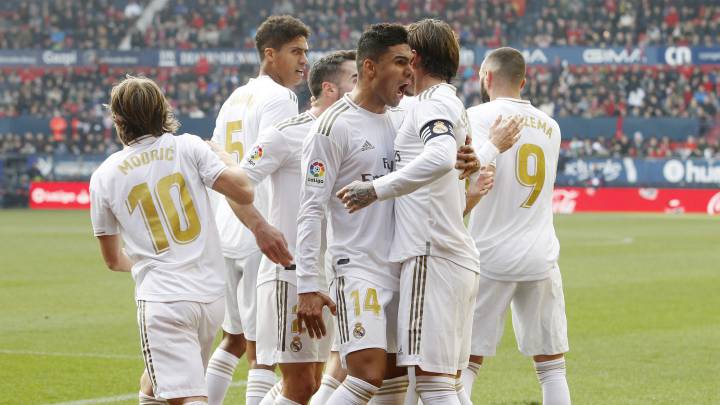 Madrid continue preparations for Celta Vigo
Real Madrid completed Friday's session ahead of their clash with Celta Vigo on Sunday night. Eden Hazard trained as normal and could finally make his return to Zidane's squad for the visit of Celta. James returned to working with the group for the first time since his injury against Real Sociedad in the Copa del Rey quarter-final defeat last week. Meanwhile, Gareth Bale was seen with a bandage around his right arm for the second day running (here's hoping it's not a golf-related injury!), though the Welshman participated in the session without any issues.
One of the big questions ahead of Sunday's game surrounds whether Zidane will leave Ferland Mendy out of his starting XI. The Frenchman, who has become the regular starting left-back ahead of Marcelo this season, is currently on four yellow cards. And with Barcelona looming next weekend, Zidane may opt to leave his compatriot on the bench and start with Marcelo.
Casemiro leads the pack
Casemiro has arguably been Madrid's most important player this season. The Brazilian has featured for more minutes than any of his team mates and has played a key part in Madrid's impressive defensive record (Zidane's side have conceded just 14 goals in their 23 LaLiga games this term, an all-time record for the club at this stage of a campaign), not to mention his efficacy in attack, with the Brazilian managing a brace against Sevilla a fee weeks back.
They say the numbers don't lie and that certainly is the case with the veteran defensive midfielder. He currently leads LaLiga charts in several defensive statistics, including ball recoveries (187), passes intercepted (44) and tackles attempted (74).
Odegaard helps Sociedad put one foot in Copa final
Real Madrid fans have watched with glee as club loanee Martin Odegaard continues to impress week-in-week-out with Real Sociedad – aside from last week, of course, when he helped to knock Los Blancos out of the Copa with a goal in the Txuriurdin's 4-3 win at the Bernabéu.
And the Norwegian playmaker was on point again in the semi-final, scoring the 42nd-minute winner in the first leg against Mirandés (2-1), which brings his tally to seven goals (plus eight assists) in 24 games across all competition this season. Despite a brief run-in with Sergio Ramos last week, in which the 33-year-old captain insulted Odegaard's mother, we expect Madridistas will be keen to have Odegaard back in the white shirt as soon as possible.
Las Vegas Clásico
Las Vegas looks set to host El Clásico this summer. According to a report by The Washington Post, International Champions Cup organisers are looking to stage the game in Vegas after the success that was the Miami Clásico in 2017 (Barcelona won 3-2).
The Washington Post reports Allegiant Stadium, a $1.9b development currently underway to house the Oakland Raiders, has been proposed for the Clásico fixture, which will serve as a curtain raiser to inaugurate the new stadium. Madrid-Barca is always a heated affair, but the 40-degree-celsius (104 Fahrenheit) average summer temperatures would add some extra heat to a Sin City clash between the LaLiga titans.
On this day, February 14, 1999: Madrid trounced 3-0 by Barcelona
On the topic of El Clásico, the last time it was played on the most romantic day of the year was in 1999, a game that did not bring a rosy ending for Los Blancos.
Madrid travelled to Camp Nou, sitting fifth in the league at the time, to take on leaders Barcelona, who trounced the visitors 3-0, thanks to Rivaldo and a Luis Enrique brace. Barcelona went on to lift the title that season, finishing 11 points ahead of Madrid in second place.
Next weekend, the pair face off amid one of the most hotly contested LaLiga title races in a few years. And whatever the result at the Bernabéu, it's safe to say there will not be an 11-point gap between the two come the end of the season.