Real Madrid: the stark goal stats that highlight Ronaldo's absence
The statistics that highlight how Real Madrid have been struggling for goals since Cristiano Ronaldo left in the summer of 2018.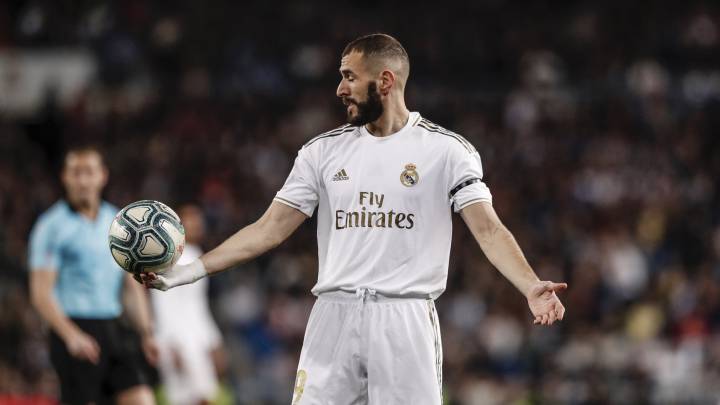 The majority of data related to Real Madrid's scoring drought points starkly to the absence of Cristiano Ronaldo, the club's all-time record goal scorer who netted 450 goals in 438 games before he left for Juventus in the summer of 2018.
Since the departure of the Portuguese legend, Los Blancos have gone scoreless in 21 of 93 matches – that is 23 percent of the total games played. Over Ronaldo's 438 games, only 36 ended without Madrid getting on the scoreboard, translating to 8 percent of the total.
Following this weekend's LaLiga action, Barcelona have surpassed Madrid as the club with the highest number of goals in the history of the competition. As Madrid lost 1-0 to Levante, Barça put five goals past Eibar (5-0), bringing their all-time league tally to 6,151 goals, one more than their eternal rivals on 6,150.
Here again Ronaldo's name arises. When the former Madrid number '7' left, they were 42 goals ahead of Barcelona. But that 42-goal advantage vanished in the 62 league games that have been played without CR7, who, interestingly, has scored precisely 42 league goals with Juventus since he left the Bernabéu.
Zinedine Zidane has watched his team suffer in the absence of Ronaldo. The French coach seemed to have had an intuition of what was going to happen without the Portuguese marksman on the team when he announced his resignation just weeks before Ronaldo left.
Since Zidane's return in March, 2019 to save a flailing Madrid, he has had to face a harsh reality that is clearly evident from the figures: during his first stint on the Madrid bench his team went just 9 of 149 games without a goal. During his second term, Los Blancos have not scored in 11 of 47 meetings.
Real Madrid this season
Turning our attention to this season, the stats reveal Madrid's impotence in attack. The first consequence of this is that the team tend to depend too heavily on crosses from wide positions. Against Levante, Marcelo and Carvajal put in 33 crosses, the fourth highest such figure Madrid has registered this season.
Curiously, there seems to be an inverse relationship between number of crosses and victories achieved. Of the five games in which Madrid have registered the most crosses, they have won zero: that is against Celta Vigo (2-2), Athletic Bilbao (0-0), Real Sociedad (3-4), Levante (1-0) and Atlético in the Super Cup final (0-0).
Karim Benzema is Madrid's top scorer this season with 18 goals. Behind him is designated penalty taker Sergio Ramos (7 goals) and then a string of midfielders: Rodrygo (7), Toni Kroos (5), Luka Modric (5) goals) and Casemiro (4). Luka Jovic, the reinforcement centre forward signed for 60 million euros last summer, has only managed two goals.
Looking back to the double season of 2016-17, when Madrid lifted both the League and Champions League titles, they averaged 2.8 goals per game. In this campaign they have fallen well below that figure to 1.74 goals per game.
Currently, Zidane's side need an average 6.8 shots per goal scored. Last season, when they were also without Ronaldo, they needed 6.9 shots per goal. With the Portuguese striker, Los Blancos never needed more than six shots per goal, except in his first season.