Real Madrid: Zidane's Bale or Isco dilemma for Manchester City
Zinedine Zidane must decide whether to play Isco or Bale in the Champions League, with the possibility of throwing Vinicius into the fray also open.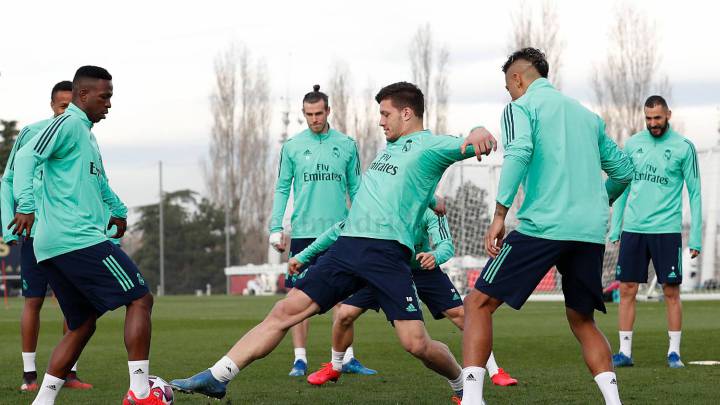 Real Madrid manager Zinedine Zidane has a decision to make ahead of the Champions League last-16 first leg clash against Manchester City at the Bernabéu on Wednesday (21:00 CET) after losing Eden Hazard to injury: Gareth Bale or Isco?
The Belgian had just recovered from a recurring ankle issue before suffering a relapse in the defeat at Levante that could rule him out for the rest of the season, leaving Zidane with a space in attack that he could fill with the sparingly used Welshman or the Spain midfielder, neither of who have enjoyed a significant amount of playing time this season. Bale and Isco are Zidane's 12th and 13th most-used players during the current campaign, a rough barometer of their standing within the Madrid squad at the moment. Bale has suffered from injury issues throughout the season while Isco, who missed a few games at the beginning of 2019-20 with a muscle problem, has been the regular victim of Zidane's wealth of midfield options.
However, both are able to fill the void left by Hazard but Zidane's issue lies not just with the form of his options but also a potential tactical switch depending on what he decides. With Bale in the side the Frenchman is likely to lean towards a 4-4-2 with the Wales forward operating alongside Karim Benzema in front of a midfield of Casemiro, Luka Modric, Toni Kroos and Fede Valverde.
Zidane and Guardiola's midfield chess game
If he opts for Isco, Madrid would have a reinforced midfield to counter City's ability to swiftly move the ball around in the centre, which in turn would oblige Pep Guardiola to act accordingly. That could mean that Raheem Sterling, one of City's greatest threats but recently returned from injury, may be sacrificed for an extra midfielder with Gabriel Jesus and Sergio Agüero up front. Like Zidane, Guardiola is not short of options with Riyad Mahrez, Phil Foden and Bernardo Silva all candidates to fill that role.
Much as Foden presents an intangible for Zidane, the Real manager also has a wildcard up his sleeve in the form of Vinicius, who could be thrown into the fray after his recent performances for Madrid, which have seen his compatriot Rodrygo relegated to Castilla.