Setién: "We've apologised to everyone for Éder Sarabia's behaviour"
Quique Setién told El Periódico that his assistant Éder Sarabia has to control himself and criticised the media: "It's shameful that something like this is news".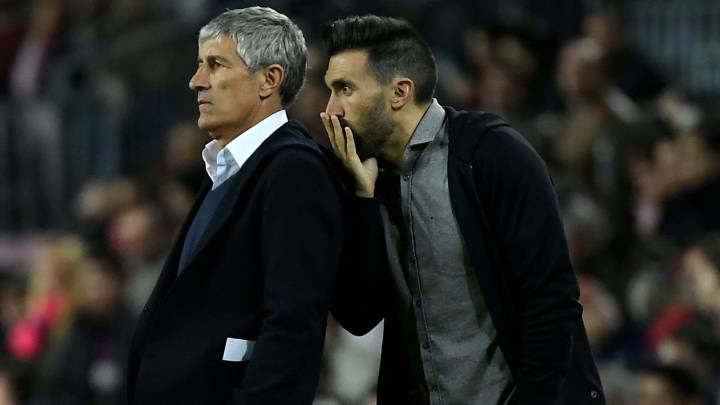 In an advance of an interview with Quique Setién which will be published in Friday's edition of El Periódico, the Barcelona coach anticipated some of the topics which could well be raised in tomorrow's press conference. One episode that will surely be brought up is his assistant coach's livewire touchline antics during El Clásico.
Setién assured that apologises have been made for Éder Sarabia's behaviour: "It's really affected me. The first thing I think about is the club and the image of the club. The club's image should be spotless, you have to take care of it. It's an issue which worries me a lot - it's very important to me. We can be criticised for doing things badly or for making the wrong changes to the team, poor match planning... For whatever, but not for our behaviour. It's true that you have to understand how people are and the situation - we're not all the same. Éder is a guy who has a lot of character, and in lots of ways, that's really great for us. But he also has to learn to control himself. He's working on that, he's trying to improve things because we've had similar situations to the one the other day. These situations are more sporadic but… It's something which we don't like. There's no excuse to see these things go on on the bench. Éder is a young lad, he can be quite impulsive, he has a lot of energy which is very positive in many situations. But for where we are and who we represent, our comportment needs to be exemplary. While anything can happen - a one-off, you lose your head for some reason, you have to try and keep your temper under control," Setién said.
Sarabia realises the error of his ways
When asked if he had discussed the matter with Sarabia, Setién replied: "Of course we've spoken about it. He's worried about it as well. It's not as though we couldn't care less. It's an issue that both of us need to improve. It's about finding a solution. He's working on it. We have apologised to everyone we need to apologise to - and in the end, it's my fault. I'm the one who has to control these things. We've said sorry to everyone - everyone… Our comportment was unacceptable - because there are other ways of saying things. It's not a question of giving the squad an explanation - these are things that none of us like. We've made a mistake and we'll try to ensure it doesn't happen again. It's embarrassing that all of this has turned into a story that's all of the papers. That's really embarrassing. That the media have a camera focused on the bench permanently throughout the game... that needs to be stopped. You can't be shielding your mouth all day long - I shouldn't be obliged to cover my mouth. It's disgraceful that these things happen".