BARCELONA
Barcelona: white hankies and chants against Bartomeu at Camp Nou
For the second game running, a section of Barcelona fans made their feelings known about under-fire president Josep Bartomeu.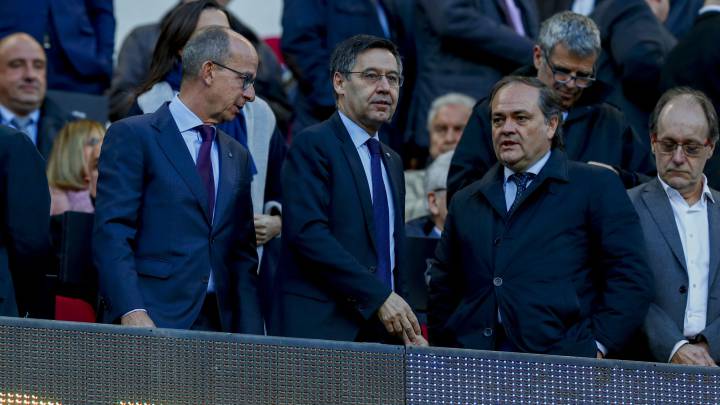 Fans waved white handkerchiefs as chants of "Bartomeu resign" rung around the stadium during Barcelona's 1-0 win over Real Sociedad at Camp Nou on Saturday.
It was the second game in a row that a section of Barcelona supporters mounted a protest against club president, Josep Bartomeu.
The club's top executive has been under fire of late due to a string of issues, from the sacking of former coach Ernesto Valverde in January to a recent social media scandal in which it was alleged that the club hired a PR firm to spread negative messages about current players and past figures associated with the club.
Bartomeu looked on stoically but would have been unable to ignore the chants as they grew in intensity around the stadium, while the scattering of white handkerchiefs were even visible close to the presidential box.
The events at Camp Nou come amid some club member calls to have the presidential elections brought forward to this summer. However, Bartomeu is keen to see out his mandate until June 2021 despite the recent fallout.
Chants in support of Eder Sarabia
Meanwhile, some minor chanting could also be heard in support of deputy coach Eder Sarabia, who has been in the spotlight this week over his frenzied and foul-mouthed touchline display during the Clásico last Sunday.
Head coach Quique Setién came out this week to say his assistant's performance was "a little embarrassing" and warned that he must "learn to control himself".
However, it seems some Barcelona fans are in favour of Sarabia's pitch-side approach, which Setién claimed did not fall in line with the ethos of the club.