Jordi Alba on Camp Nou hostility: "I don't like that they whistled us"
Jordi Alba expressed his distate for several Barcelona fans who whistled the team during the game against Real Sociedad. The defender also backed deputy coach Eder Sarabia.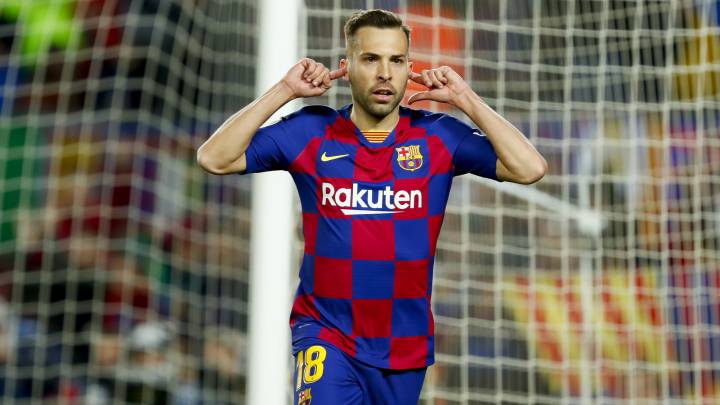 Jordi Alba has railed against Barcelona fans who whistled him and his team mates during the game against Real Sociedad at Camp Nou on Saturday.
Barcelona were only able to see off their opponents thanks to a late VAR-awarded penalty, which captain Lionel Messi converted in the 80th minute. Alba himself scored an injury time goal that was ruled out by VAR. Though a 2-0 scoreline would have flattered the hosts as Sociedad fought well and were unlucky not come away with something.
El Blaugrana's performance apparently left a lot to be desired among some fans, who proceeded to whistle their team early on to ensure their feelings were known. But Alba called for more respect from the stands during his post-match interview.
"The team's attitude is good, the players gave everything. No player likes not to play well, but whistling in the fifteenth minute with the score at 0-0, I didn't like that," said the Barcelona left back.
"Just as I respect everyone, they have to respect me. I don't like that they whistled us."
There was a notably hostile atmosphere at Camp Nou during Saturday's game. Fans also staged a protest against president Josep Bartomeu as several sections of the crowd waved white handkerchiefs and chanted "Bartomeu resign".
Alba and Pique support Sarabia after Clásico outburst
One Barcelona figure who was given a positive reception, however, was Eder Sarabia. A small section of the Camp Nou crowd chanted in support of the deputy coach after he came under fire for his heated and foul-mouthed pitchside display during the Clásico last Sunday, where he was seen swearing at some players.
Head coach Quique Setién came out this week to say his assistant's performance was "a little embarrassing" and warned that he must "learn to control himself". Though after the Sociedad game, Alba firmly defended Sarabia's actions.
"It's like Sarabia has killed someone," he said. "Now it seems that the coaching staff cannot express themselves as they want... He lives and breathes football intensely. He did not disrespect anyone, I would have done the same in his place or worse, we are not upset."
Barcelona deputy captain, Gerard Piqué, also backed Sarabia in his post-match comments, saying the players like to have "intensity" coming from the bench.
"It's normal for an assistant coach with adrenaline like this to express it. To us, it's normal," said Piqué.
He added: "We like that there is like that there is intensity on the bench. It's normal that they express these things when they see weaknesses. We just try to prove them wrong and that's it."