LALIGA
11 games to decide LaLiga: who Real Madrid and Barça have left
Real Madrid will travel to Anoeta and San Mamés with Getafe playing at the Bernabéu. Barcelona have to play Atlético Madrid and Sevilla.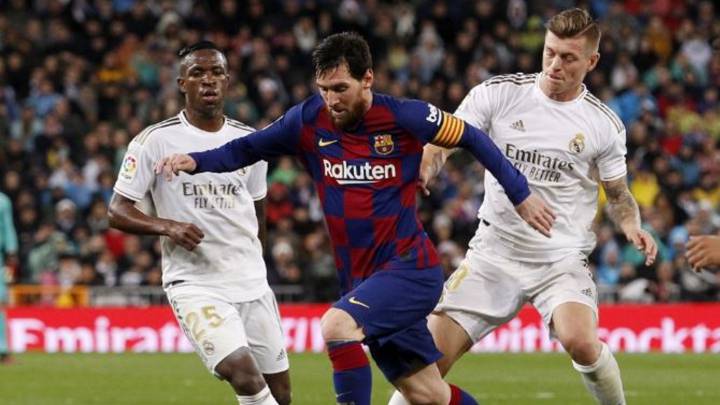 Real Madrid have handed the top spot in LaLiga back to Barcelona. The loss at Real Betis on Sunday night sees Barça go top with 11 games left to play. Setién's side have a two-point advantage but have a more difficult run-in and a worse goal average too.
They played Atlético on 26 April at the Camp Nou and will visit Sevilla before that on 5 April. Real Madrid's two most difficult games come against Getafe at the Bernabéu and Real Sociedad at the Anoeta. The game against Real Sociedad is the only away game against the top seven although they do have a tricky encounter against Athletic Bilbao at San Mamés to deal with.
Athletic Club is one of the seven clubs who still have to play Real Madrid and Barcelona. The others are Mallorca, Leganés, Villarreal, Alavés and Espanyol. Levante is the only team in the league who have played the two title hopefuls twice.
Madrid have six games at home and five away from home. At the Bernabéu, Eibar, Valencia, Mallorca, Getafe, Alavés and Villarreal will visit. They will travel to play Real Sociedad, Espanyol, Athletic Club, Granada and Leganés. The Camp Nou will see visits of Leganés, Athletic Club, Atlético, Espanyol and Osasuna and Setién's side will travel to play Mallorca, Sevilla, Celta, Villarreal, Valladolid and Alavés.
El calendario que les queda en Liga a Real Madrid y Barcelona
Gameweek
Date
Real Madrid
Barcelona
28
13/14-mar.
Eibar
Mallorca
29
21/22-mar.
Valencia
Leganés
30
5-apr.
Real Soc.
Sevilla
31
12-

apr

.
Mallorca
Athletic
32
22-

apr

.
Espanyol
Celta
33
26-

apr

.
Getafe
Atlético
34
3-may.
Athletic
Villarreal
35
10-may.
Alavés
Espanyol
36
13-may.
Granada
Valladolid
37
17-may.
Villarreal
Osasuna
38
24-may.
Leganés
Alavés
In black, games at the Bernabéu and Camp Nou.
In italic, mid-week games.
The league title will be decided in a month
The next month will see 5 games played; from 13 March to 22 April. We will have a break at the end of March for the last international break of the season and the weekend of the 18 and 19 will see the Copa del Rey final. The last six games will be played from 16 April until 26 May.
The last three games will be played in a week with the second last game being played mid-week. Real Madrid will travel to play Villarreal and Barcelona will welcome Osasuna to the Camp Nou. Both teams will play the last game away from home with Real Madrid travelling down the road to Leganés and Barcelona taking a short trip to Alavés.