James and Bale: Real Madrid's 176m-euro forgotten duo
Despite Real Madrid's struggles in Seville as they fell to defeat to Real Betis on Sunday, Zinedine Zidane didn't even send the pair out to warm up.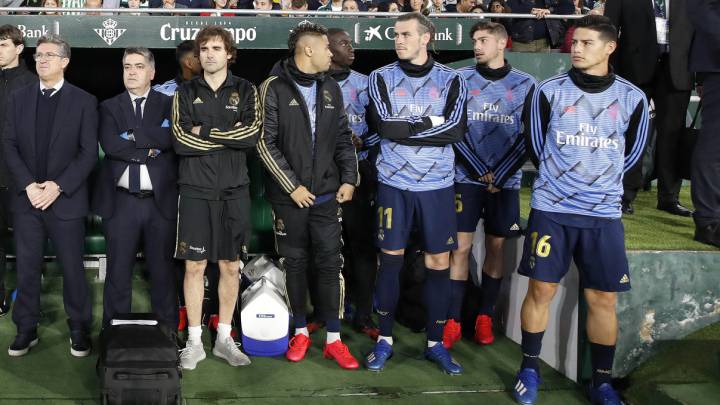 James Rodríguez and Gareth Bale, players who cost Real Madrid 75 million and 101 million euros, respectively, have become invisible men at the Santiago Bernabéu. They simply do not figure in Zinedine Zidane's plans, and Sunday's 2-1 loss to Real Betis bore testament to that.
Bale, James now less important than even Mariano Díaz
With Madrid heading for defeat and LaLiga top spot slipping through their fingers, Zidane didn't even send them out to warm up. Even striker Mariano Díaz, who was a completely forgotten man up until the Clásico, has now become more important.
James' predicament is particularly bleak. He hasn't appeared since October in Madrid's two most important competitions, LaLiga and the Champions League, and has found himself relegated to Copa del Rey and Spanish Super Cup duty. What's more, Zidane hauled him off at half time of his last outing, the Copa exit to Real Sociedad at the start of February.
Bale, meanwhile, has had one 15-minute cameo in Madrid's last four games, in a campaign that has again witnessed Zidane's difficult dealings with the Colombian and the Welshman - something which has been a constant of his time as Los Merengues' head coach.
Few, for example, could forget the Frenchman's evident discomfort when he told a November press conference that the pair were "not available" to play against Eibar but, mysteriously, also acknowledged that they were not injured.
Bale and James will both be Real issues in summer
Madrid and Bale have agreed a truce until the summer, at which point the 30-year-old - whose agent, Jonathan Barnett, is even talking about a new contract - will again be a thorny issue for the Spanish-capital club.
James' situation will be no less complex. The midfielder, who will be 29 in July, will be heading into the final year of his Madrid deal, a fact which could complicate a close-season sale: he'll also have the option of sitting tight and, from January, negotiating a free transfer that would bring with it a hefty signing-on fee.
For both James and Bale, 2020 looks like being a somewhat football-free year - at least until the summer, which promises to be anything but straightforward...