LIVERPOOL-ATLÉTICO | SIMEONE
Simeone: "I hope it's played with fans, they mean a lot to Liverpool"
Simeone speaks about the game against Liverpool at Anfield, which will be his first time playing in the "wonderful stadium" and he hopes the fans can watch.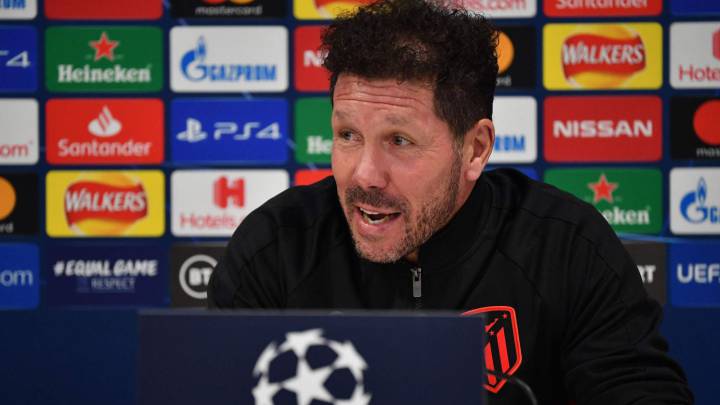 - A new challenge for Atlético.
- We are coming up against an opponent as they are, Klopp has shown what he is all about in the last number of years that he is a manager. He's a protagonist with variety, it will take a massive effort to compete against them. The experience is worth something but sometimes, errors repeat themselves.
- Last year in Turin, it didn't work out well. The long balls to Morata... Is there a Plan B?
- Yes, there is a Plan B.
- Klopp said that Atlético Madrid never give up...
- That's a tag we have picked up in the last few years. We have competed at a really high level and the game will demand more from us and define what kind of game we want to play. If we play it the way we think that we can do damage, we might be able to do damage.
- What happened in Turin?
- In Turin, we couldn't play and we couldn't compete. The intention is to compete and that's what will see us continue in this competition.
- How is Morata?
- We will look at him in training, we will see him train. I'm not stuck, I have loads of ideas and they aren't too far away from what you imagine.
- Will absence of Allisson be decisive?
-The San Miguel guy is a good keeper and is coming off the back of some good years.
- Have you played at Anfield?
-I didn't play there as a player or a manager. I didn't have the chance to play in that marvellous stadium, to see the people switched on, where they've had historic results, have turned games... It's a wonderful stadium, no doubt.
- What's your opinion on playing behind closed doors?
- Hopefully, we can play tomorrow's game in front of people, - it wouldn't be fair on Liverpool; we played the 1st leg in front of our people. Their fans play a big part for their team and it wouldn't be fair for them to miss out.
- Do you think you can play normally behind closed doors?
- You hear many rumours that you can play without fans. I hope it's played with fans. It wouldn't be fair on Liverpool fans. They are very important to the team.
- Do you think anyone might have the virus?
- We are in the same position as you... you have been on the same trip as us.