Real Madrid: Zidane outcast Jovic attracting interest across Europe
The Serbia striker has fallen completely out of favour at the Bernabéu and Napoli are among the clubs who are keen to take him off Real Madrid's hands.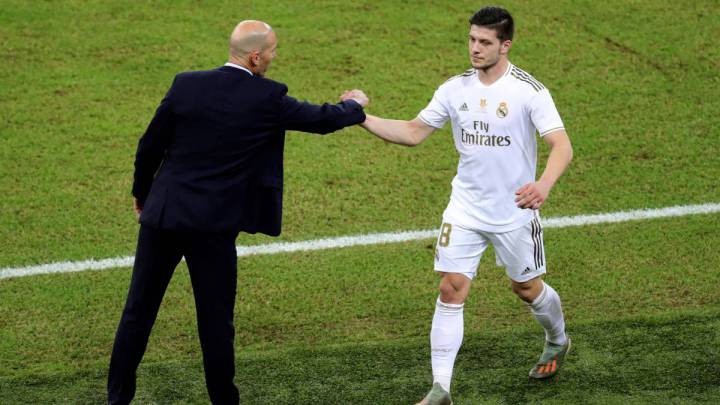 A year ago Luka Jovic was one of the hottest properties in European football. The Serbia striker's form for Eintracht Frankfurt sparked a bidding war among the continent's elite that ended with Real Madrid parting with €60m to sign a player who had banged in 27 goals in 48 games for the Bundesliga side.
Since his arrival at the Bernabéu, Jovic's stock has plummeted. The 22-year-old has managed just 770 minutes under Zinedine Zidane, making him the 19th most used player in the squad. During that time, he has scored two goals, at a rate of one every 192.5 minutes, and provided two assists.
Mariano winning Zidane's affection over Jovic
Jovic has not even made the squad for Madrid's last three games despite being fully fit and has been replaced in Zidane's affections by Mariano, who until his minute-long goal-scoring cameo against Barcelona had not featured all season in LaLiga. Since Jovic found the net against Osasuna, which might have served as a springboard for a larger role overall, he has been on the bench once and omitted entirely three times.
The Serbian's situation at Madrid has alerted several clubs in Europe to the possibility of a potentially profitable acquisition, with Jovic almost certain to leave on loan this summer. Among them are Napoli, who were in the running last summer and have made a tentative enquiry, as well as others in Serie A and the Premier League.