BARCELONA
Barcelona: Only Griezmann, De Jong have remained injury-free
A total of 16 first team players have spent time in the casualty room this season, in some cases, three times. Griezmann and De Jong have remained fit.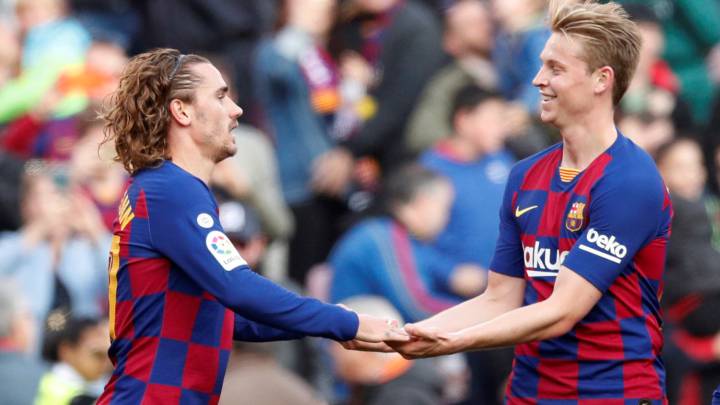 Just two players haven't fallen victim to Barça's injury curse this season. Curiously, both of them were summer signings - Antoine Griezmann and Frenkie De Jong. Both players have been available for every squad list although they have been left out for technical decision on the odd occasion. The French forward's only dealings with the casualty room was when he took a blow to his ankle during the pre-season but he made a swift recovery. Now they have been joined by a third team mate, Martin Braithwaite, although he's only been at the club for a month.
Injury problems have been the bane of Barcelona's season. In total, 16 players have been forced to take timeout with injury or illness. Some have suffered serious setbacks - like Ousmane Dembélé, who is out for what remains of the season after rupturing the hamstring tendon in his right leg – an injury which required a trip to the operating table in Finland. Others, such as Luis Suárez and Neto also had to resort to surgery to sort out their problems. The Uruguayan striker is still in the recovery process and is due to return at the end of April.
Others haven't needed surgery but have spent lengthy spells out - Arthur Melo who was out for a few months with a groin problem, Leo Messi's niggling calf muscle injury and Jordi Alba, who was sidelined with a torn hamstring. In the latter two cases, both players were out of action for longer than expected after suffering relapses.
Even some of the younger players have not escaped injury. Ansu Fati has been forced to stop several times during the campaign for an ongoing problem with the tendon in his right knee and that has hampered his development.
And with some players, something unrelated to injury has stopped them from playing. That was the case with Sergio Busquets, who was dropped from the starting line-up for El Clásico at Camp Nou on 18 December at the last minute.
Then there are the players who have been in and out of the sick bay - Samuel Umtiti's knee issues have made him missed several weeks of the campaign; Marc André Ter Stegen has also been obliged to take a place on the sidelines with problems with his knee and could undergo surgery if it persists.
Even the likes of the evergreen Ivan Rakitic, who hadn't missed a game through injury since joining in 2004, has had the odd muscular injury or Achilles problem to deal with.