Vinicius: "Benzema thinks 10 seconds ahead of everyone else"
In another excerpt from his interview with FourFourTwo, the Brazilian spoke about how grateful he is to Benzema and also about Marcelo's skills.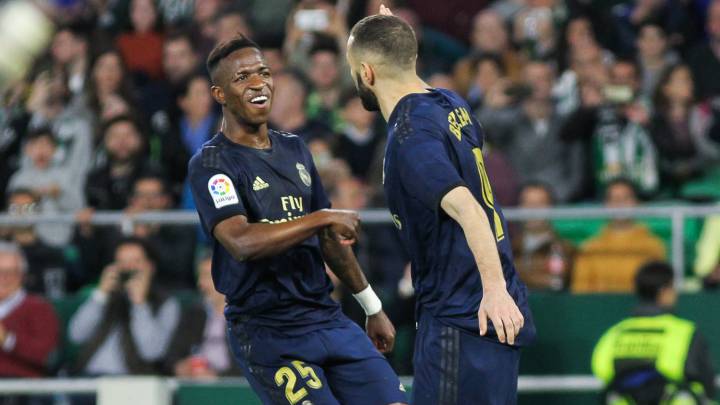 FourFourTwo has been offering more glimpses of their recent interview with Vinicius which will feature in the April edition of the magazine. In the first excerpt, the teenage forward spoke about how he close Real Madrid over Barcelona while he was still on the books at Flamengo. In this new snippet, he talks about the team mates who have impressed him the most.
Vinicius indebted to Benzema
When asked which member of the Madrid squad has helped him out the most, Vinicius replied that he is very grateful to Karim Benzema who has taken him under his wing: "Karim Benzema, without a shadow of a doubt. He has helped me since day one, advising me on how to make the best decisions, and whenever we play together he tells me to remain calm and focused".
To further his point, Vini recalled a significant moment when the experienced Benzema gave him a helping hand: "There was a match against Atlético Madrid when I lost possession and we conceded a goal. He spoke to me about switching positions for a few minutes, so that I would receive possession less and regain my confidence to get back into the game,". he explained "We did that and it worked perfectly. He's experienced – he's been at Real Madrid for more than a decade now – so it's a privilege to learn from him".
Quick-thinking Benzema
He also spoke about some of the idiosyncrasies of life at Real Madrid: "It's actually difficult to describe the quality we have at Madrid, and the players' mindset is totally different, too. There's such a winning mentality that every single one of us wants to win every single thing, to boost the competitiveness of activities. If you slow down a little bit in training, the gap to everyone else will increase". And he didn't hesitate when asked who he feels are the most gifted members of the squad, "Marcelo is so skillful with phenomenal ball control, and Karim thinks 10 seconds ahead of everyone else," he concluded.