Felipe Melo: "With Brazil, we took it in turns to kick Messi"
The Brazilian player gave an interview to Clarín: "Sometimes, I'd go to training and on my return home, I'd find out that one of my friends had been shot".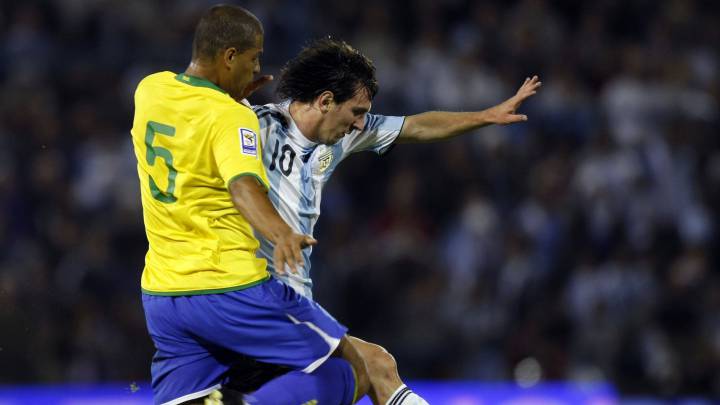 Felipe Melo took time out to chat to Clarín in an interview in which he spoke candidly about the extremely difficult childhood he had and how football helped him to deal with his problems. He was also full of praise for Leo Messi, and explained the methods adopted by the Brazil national team that was the only way of stopping the Argentine ace.
Only one Messi: "He's the best player in the history of the game".
Comparing Messi with Maradona and Pelé: "I can't really say anything about Pelé because I ever saw him play. With Maradona, I remember him from the 1990 World Cup when they beat Brazil - Caniggia scored the winner. People in Brazil say Zico was the best out of everyone, but the first time I saw him play was in his farewell match at the Maracanã. Then I saw Messi play and he was just incredible. More than Cristiano because, while he can score five goals past you, Messi will score those five goals and create goals for his team mates. He's a more complete player in my opinion".
Encounters with Messi: "He is unique. With the Brazil squad, whenever we played against him, we'd say 'All of us have to kick him, we'll take it in turns'. If not, it's difficult to stop him - it's not possible for one player to mark him. And I don't mean kicking him to injure him, but more of a tactical foul, to affect his rhythm, to annoy him".
Growing up the Favelas: "I was born and grew up in the worst favela in Rio de Janeiro. My mother was at home all day with us and my father went out to work. Of course, we didn't have any comforts but we didn't lack anything. I dreamt about becoming a footballer when I was young, if not... I don't know what might have become of my life. It was football or football. Sometimes, I'd go to training and on my return home, I'd find out that one of my friends had been shot; 95% of my friends from the favela are no longer here, they're all dead. They chose a different path and now they're not here. The 5% that remained managed to get out, find work and make something with their lives".
Life is tough in the favela: "I've seen some incredible things in the favela that I'd rather not talk about. I had the opportunity to but I never got involved with drugs or weapons. I preferred to take a different path. I remember the bosses of the drug dealers in the favela telling me, 'You've got a future, I don't want to see you here again, and if I see you back here, I'll shoot you in the head'. I always wanted to work and not earn easy money".
Big fan of Argentinean football: "Yes, for the way they have of playing, giving their heart and soul out on the pitch. Brazilian football's different, it's samba, tiki-taka. That's why people say I am almost Argentinean in the way I play. But I'm Brazilian and I love my country. I love how Argentineans play and live football. And the best player in history, who for me is Messi, never kicks anyone".