Benzema's season reflects overall goal shy LaLiga campaign
The French striker has been accused of being off the pace in front of goal this season but a trend shows how forwards have gone from scoring 61% to 54% of all goals.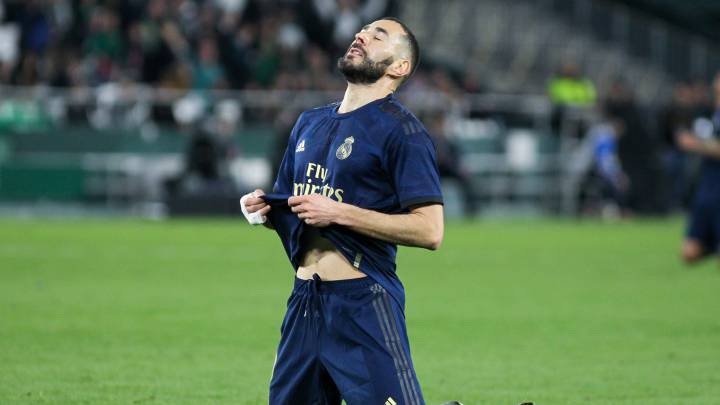 Goals are at a premium in the 2019/20 LaLiga season to date. 685 goals were scored before the Covid-19 pandemic drew a halt to activity and this figure represents an average of 2.54 per game. If the same ratio is applied to the eventual conclusion of the campaign, then a total of 964 is the expected total which trails last season's 983 haul. The impact on strikers finding the net may be a contributing factor in this drop-off.
Goal shy
Benzema has been tainted as a goal-shy striker by his critics but his situation is a common trend with his fellow forwards. LaLiga strikers have gone from bagging 60.98% of all goals in the 15-16 season (636 of the 1,118 total) to just 54% of the overall strikes. At present in the current season, forwards have contributed to 370 of the 685 and statistics would suggest that the overall expected total of 520 come the end of the season would constitute the lowest haul from forwards in a decade of LaLiga action.
Despite being current top scorer in LaLiga, Lionel Messi has also seen a dip in his season average and his current haul of 19 is far from previous season tally of 36 and 34 respectively. Celta Vigo's Iago Aspas is the current Spanish top marksman but he too with just 9 is behind the 18/19 total of 20 and last season haul of 22.
Goals scored in LaLiga according to position
Forwards
Midfielders
Defenders
2019-2020
370 (54%)
224 (32,7%)
79 (11,53%)
2018-2019
549 (55,85%)
283 (28,79%)
123 (12,51%)
2017-2018
592 (57,81%)
298 (29,10%)
104 (10,15%)
2016-2017
562 (50,27%)
400 (35,78%)
134 (11,99%)
2015-2016
636 (60,98%)
289 (27,71%)
89 (8,53%)
own goals not included.
As things stand, the 2019/20 season is set to register a goal tally of less than 1,000 goals for the second consecutive season marking a drop-off from the 17-18 season with 1,024 strikes or the 1,118 from the previous campaign (2016/17).
LaLiga currently ranks at No.7 in the overall UEFA ranking with Germany's Bundesliga enjoying the highest goal scoring average with 3.25 goals per game in 2019/20.

2019/20 average goals scored in European leagues
| | |
| --- | --- |
| League | Goals scored per game |
| Germany | 3,25 |
| Holland | 3,08 |
| Italy | 2,91 |
| Belgium | 2,82 |
| England | 2,72 |
| Ukraine | 2,61 |
| Spain | 2,54 |
| France | 2,52 |
| Portugal | 2,42 |
| Russia | 2,38 |