REAL MADRID
Coronavirus: Real Madrid and Zidane planning for multiple scenarios
Real Madrid might have to play a game every 48 hours and for that reason, Zidane is planning for multiple scenarios after coronavirus crisis passes.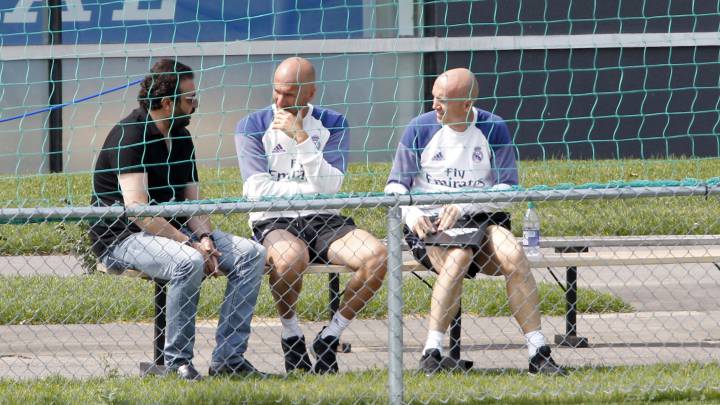 Real Madrid's technical staff are planning for a number of scenarios to ensure the squad are ready for whenever football returns after the coronavirus epidemic. The club's directors have explained to Zidane the potential scenarios LaLiga are planning. There is still uncertainty but the mayor of Madrid have circled two keys dates in the calender. The first is 25 or 26 of March when we will know if the curve has been flattened and the spread of Covid-19 have eased off. The other is 15 April to analyse the number of people who have been given the green light after recovering from the virus. Football, obviously, will have to adapt to the measures put in place by the government.

The only thing we do know, and Zidane too, is that the date given to finish competitions once football does start against is 30 June. LaLiga will have to readjust their end date of 15 May. So, Zidane knows that between 15 May and 30 June, will have to play 11 games along with the Champions League knock-out stages and a potential final. That might demand a game every 48 hours.
In this scenario, the most feasible, the work done during the mini-preseason will have to focus on the avoidance of injury. It will be a model taken from NBA, who often play back-to-back games. With this model, the players play a lot and use training time for recovery.
Zidane and Madrid preparing for other coronavirus scenarios
There are other scenarios the technical staff are working on given we don't know what is ahead of us. The most important thing for the training staff is when the players will be able to train as a team again. They are currently quarantined and working at home on their own. They could have a week together before games start again or two. The most important aspect of this is when the state of alarm, which has been in place in Madrid since last week, is lifted by the Spanish government. It will be in place, for sure, until at least the week of Easter (April 8). In the Wuhan region of China, the first player to experience the epidemic, they had to shut everything down for eight weeks. In Spain, the curve is different to that in China and Italy though and measures were taken at different times in different countries.
LaLiga has calculated that there are still 28% of their television rights to be paid out, that is to say €550 million. There is also the money earned from ticket sales and season tickets and for that reason, clubs want to finish the season. For this, there is another scenario where UEFA and FIFA apply an emergency measure that would allow contracts to finish later than 30 June. That would mean the leagues could finish later in July. Zidane, along with his assistant coach, David Bettoni, and physical trainer, Grégory Dupont, to prepare for all scenarios.