Ronaldo, Messi, Ramos: Football unites to tackle coronavirus
Ronaldo, Messi, Ramos, Mourinho, Guardiola and many others have joined the battle against coronavirus. We compile some of the work done and donations made to date.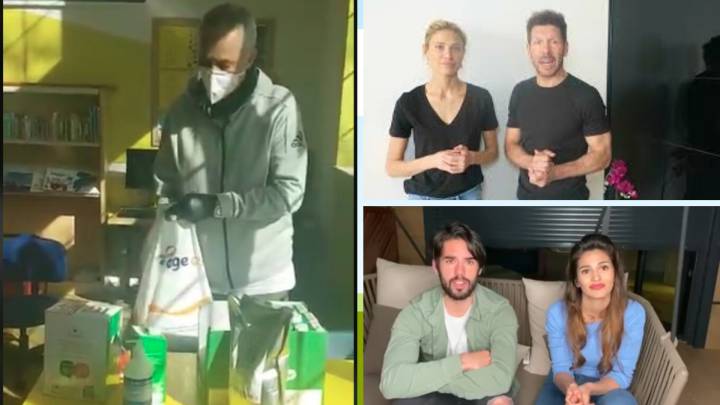 Real Madrid and Sergio Ramos donate medical supplies
Sergio Ramos will donate 364,571 respiratory masks, 15,000 COVID-19 testing kits and 1,000 units of protective equipment through Unicef for hospitals throughout Spain, while president of the Community of Madrid, Isabel Díaz Ayuso, announced that Real Madrid would also donate medical equipment to help tackle the virus in the Spanish capital.
"Thanks to Real Madrid for their very important contribution in facing the coronavirus and helping us save lives," said Ayuso on Monday.
Ronaldo and Jorge Mendes join forces
Cristiano Ronaldo and agent, Jorge Mendes, have joined forces to provide equipment to hospitals in Portugal, pledging €1 million. The pair will donate 10 beds each, ventilators, heart monitors, infusion pumps and syringes to Lisbon's Santa Maria hospital; while Santo Antonio in Porto will receive 15 intensive care beds, much-needed ventilators, monitors and other equipment.
Messi donates €1m to two hospitals
Barcelona skipper Lionel Messi has pledged €1 million between a hospital in Barcelona and another in Argentina in the fight against Covid-19.
"Leo Messi made a donation to fight against COVID-19 in the clinic," said Hospital Clinic of Barcelona on its Twitter page. "Thank you very much, Leo, for your support and your commitment."
Guardiola also contributes €1m
Manchester City boss, Pep Guardiola, has donated €1 million to the Ángel Soler Daniel foundation in Barcelona, which will be used to buy medical equipment and will go towards the production of sanitary gear for doctors, nurses and staff at the hospital.
Mourinho volunteers in London
On Monday, Tottenham coach, Jose Mourinho, offered a hand to charities Age UK and Love Your DoorStep by delivering supplies to the elderly in Enfield, London.
The Spurs boss said in a video posted on the Love Your DoorStep account: "I am here to help Age UK Enfield, Love Your DoorStep Enfield and of course you can donate food, money or be a volunteer."
Isco and Sara Sálamo launch a campaign to help hospitals
Real Madrid midfielder, Isco, together with his partner, actress Sara Sálamo, have launched a campaign called 'Descorónate', which aims to raise 500,000 euros for the acquisition of medical supplies for hospitals in Spain.
Simeone and Carla Pereyra launch campaign
Atético Madrid coach, Diego Simeon, and his wife, Carla Pereyra, are working in collaboration with the Red Cross and the Atlético de Madrid Foundation, launching a campaign to support health workers in Spain.
For those who want to contribute, they can do so with the following bank details – IBAN: ES8800491892672910379703; Account Holder: The Spanish Red Cross.
Saúl and his campaign for SMEs
Atlético Madrid's Saúl Nigrez has created a campaign called "Saldremos Juntos" (We'll Come Out of This together), which aims to support SMEs and the self-employed in Spain. "We need you to save our economy," said Saúl, who has been joined by teammate Álvaro Morata and Barcelona'sSergio Busquets as campaign ambassadors.
AS Roma will deliver food to over 75s
AS Roma will deliver food and healthcare products in the Italian capital to all of its club members over 75, as reported on Wednesday by the club's charity foundation.
Watford offers use of Vicarage Road
On Wednesday, Premier League football club Watford offered up the use of its stadium to help the UK's National Health Service (NHS) in its fight against the coronavirus crisis.
Vicarage Road is conveniently located next to Watford General Hospital and could potentially be used for NHS staff courses, urgent meeting spaces, warehousing needs and childcare facilities. The club is willing to do "whatever it takes" said its chairman.
Granada disinfecting 4,000-plus masks a day
LaLiga club Granada is disinfecting four thousand masks a day in its facilities with an ozone-based system in its efforts to help the city's healthcare services cope with the coronavirus crisis.