Real Madrid deploys Bernabéu in fight against coronavirus
Real Madrid will hand control of the Bernabéu to the Higher Council for Sports, which will use the stadium as a storage centre for medical equipment and supplies.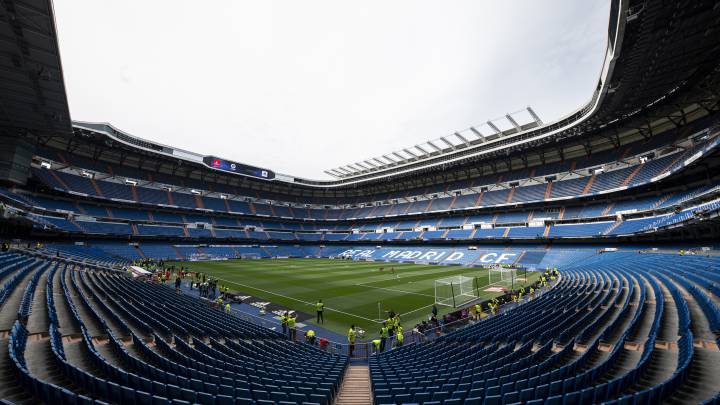 Real Madrid continues to find ways to offer a helping hand in the fight against coronavirus.
Following confirmation that Madrid would donate much-needed medical equipment to hospitals in the Spanish capital, now the club has handed control of the Santiago Bernabéu to the Higher Council for Sports (CSD), which will manage the stadium's use as a storage centre for medical equipment and supplies during the crisis.
The city is set for an influx of medical supplies as it looks to tackle the crisis, which has so far claimed the lives of more than 4,000 people in Spain. Madrid has been the worst affected region, accounting for the largest share of the 56,000-plus cases in the country.
"Thanks to the close collaboration between these two institutions (CSD and Real Madrid), the stadium will become an adapted space to store donations of healthcare supplies destined to fight this pandemic," the CSD said in a statement.
Real Madrid accepting donations
Real Madrid has also offered to act as an intermediary for organisations and companies looking to make financial donations for the provision of medical supplies, which would be then delivered to the Ministry of Health.
For those looking to make a donation, they can contact +34 900 100 688 or email Covid19donaciones@corp.realmadrid.com. Alternatively they can make a direct transfer to the Real Madrid Foundation, using the following IBAN account details: ES17 2100 5731 7802 0032 0934 (Caixabank)
Charitable actions from Real Madrid squad
Members of Real Madrid's squad have also been mobilised as Spain looks to tackle the crisis. Sergio Ramos and his wife Pilar Rubio will donate 264,571 masks, 1,000 items of protective equipment and 15,000 tests through a financial donation made to UNICEF, for which the Spanish defender is a global ambassador.
Meanwhile, Blancos midfielder, Isco, together with his partner, actress Sara Sálamo, have launched a campaign called 'Descorónate', which aims to raise 500,000 euros for the acquisition of medical supplies for hospitals in Spain.