LIVERPOOL
Liverpool: Wijnaldum reveals his heading inspiration
Liverpool midfielder Georginio Wijnaldum spoke to the club's fans about his time on Anfield and outlined the secret to his aerial prowess.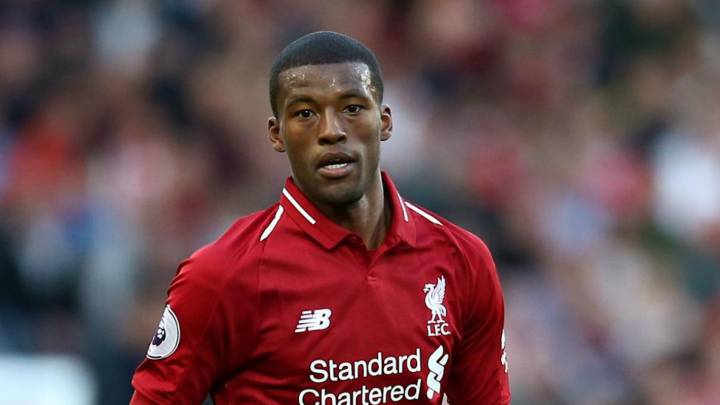 Since signing from Newcastle United in 2016 Georginio Wijnaldum has firmly established himself in the Liverpool side and has blossomed into a truly all-round midfielder. His confident passing and control of the game are vital to the Red's build-up play, but the Dutchman has also become known for his impressive heading ability.
Standing at just 175cm (the same as Real Madrid's Isco and only 2cm taller than Liverpool teammate Mohammed Salah) the centre midfielder does not seem the most likely aerial threat but has a great goal-scoring record with his head.
Speaking to Liverpool fans on the club's Instagram Q&A yesterday, Gini revealed that his aerial prowess is the result of relentless practice after being inspired by a Dutch legend.
Wijnaldum using Kluivert's head as inspiration
"I think it's because I trained a lot on headers since I was young, with my cousin. He was a big fan of Patrick Kluivert at that time.
"Kluivert was really good with headers so every time we went outside with a ball [my cousin] would teach me how to time and make good headers. He said if your timing's good that's most of the job.
"So that's what we did, we went outside and would train a lot, and now I'm good with it".
Liverpool fans will be glad that he did, with a third of his goals for the club scored with his head. That includes some very important goals too, two of which were vital in Champions League semi-final victories.
His header past future teammate Alisson Becker in the 2017/18 competition gave Liverpool a 2-1 lead over Roma on the night and would prove vital as the Reds won 7-6 on aggregate.
He saved his best for the following season's second leg against Barcelona. Needing a four-goal victory to progress Wijnaldum came off the bench to score two goals, including a brilliant header into the top corner to level the tie. Looking back, he remembers a feeling of disbelief of what the team had achieved:
"During the game you're full of adrenaline, you're so busy playing the game and trying to bring the game to a quick end that you don't realise what we did, or what I did in that moment.
"Even now I still don't believe what happened that day".
He also gave the reason for his decision to wear the number 5 shirt throughout his career, revealing that it is a nod to his hero Zinedine Zidane. The Frenchman wore the number 5 for Real Madrid and shared Wijnaldum's ability in the air, scoring two headed goals in the 1998 World Cup final to win the trophy.