Coronavirus: Luis Suárez denies Camp Nou stars refused pay cut
The Barcelona forward said reports that the club's big earners had refused wage reductions due to the Covid-19 pandemic in Spain were "hurtful."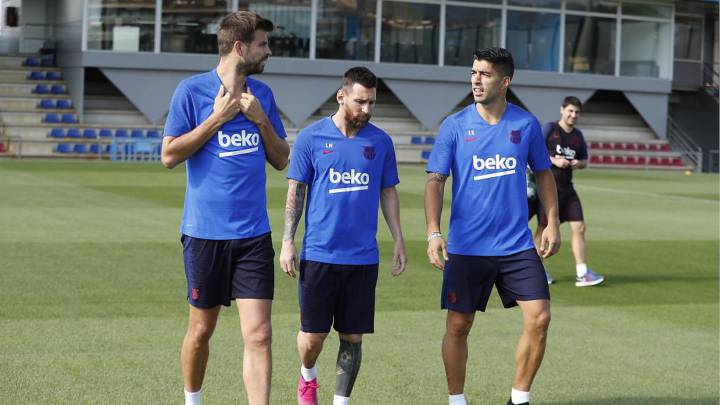 Barcelona forward Luis Suárez has denied reports that Barcelona's first team squad refused to take a pay cut during the coronavirus pandemic to aid other sections of the club. Speaking to radio station Sport890, the Uruguay international said reports that Barça's big earners had blocked moves to reduce their salaries to ensure the wages of non-playing staff at Camp Nou, and as a sign of general solidarity with the Covid-19 pandemic sweeping Spain, had been "hurtful."
Leo Messi published a message on Wednesday stating that Barça's first-team squad had agreed unanimously to accept a 70% wage reduction and that players would make voluntary payments to ensure that Barcelona club staff would receive their full wages during the LaLiga hiatus due to the Covid-19 crisis and Suárez has now also added his weight to the issue by stating that there was never any question that the squad were fully behind the proposal.
Follow all our coronavirus coverage live.
Suárez: "
No player in the squad refused a wage cut"

"A lot of hurtful things have been said about the squad's salary cuts," Suárez said. "People have said that the players didn't want to accept them, then it was said that players from other areas of the club had reached an agreement, when the reality is that we were waiting to try and find the best solution for the club."
"It hurts when people say things like that because we were always the first people that wanted to reach an agreement, as we know what the club's situation is. No player in the squad refused a wage cut. A mutual agreement was reached between the players and the club. The captains spoke to the president and nobody refused it," Suárez stated.