Real Madrid agree to slash players' wage bill by €33-56m
Following an agreement with the players, Real Madrid will drastically reduce the squad's wage bill by between 10 and 20%.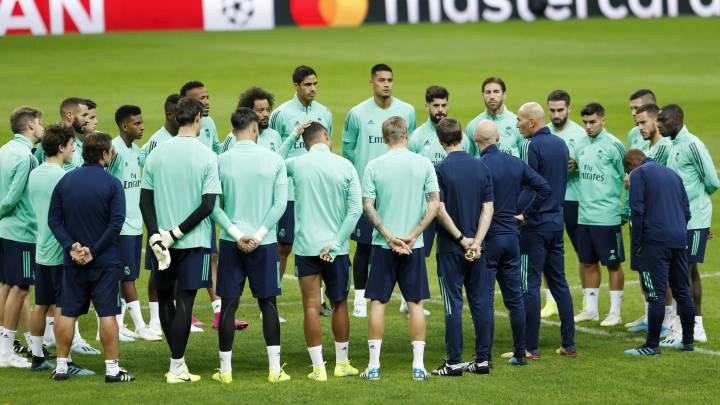 According to the president of Spain's Sports Council Irene Lozano, the decision as to when LaLiga will resume will depend on what Health Minister Salvador Illa proposes and not what LaLiga president Javier Tebas might have to say on the matter. Whatever happens with domestic competition this season, Real Madrid have already decided that they must reduce their wage bill and will start negotiating with the players in due course. Football has been plunged into a financial crisis while all competition is on hold due to the coronavirus pandemic.
Players' salaries compared to Madrid's annual income
Spanish radio station Cadena SER reported early on Wednesday that Real Madrid were looking to two possible figures which they hope will help them balance the books - by cutting first team wages by 12% or up to 20%. The total wage bill for the first team squad alone is 283 million euros - and that's not counting performance-related bonuses and other add-ons. Those figures come from the club's last balance sheet, for the 2018-19 season. If they manage to cut salaries by 12%, Madrid stand to save 33 million euros. At 20%, the club will save 56 million. It's important to remember that annual revenue is around 757 million euros but if that drops by 12 per cent, then they club will post losses of around 90 million and if it falls by 20%, those losses will be 151 million.
El Real Madrid C.F. reduce sus gastos para esta temporada.
Jugadores, técnicos y empleados acuerdan con el club una importante iniciativa de ahorro.#RealMadrid

— Real Madrid C.F.⚽ (@realmadrid) April 8, 2020
Following that news, the club announced that players in the first team squads of both football and basketball, as well as senior executives and coaching staff, would take a pay cut of between 10-20% depending on various individual factors and how the remainder of this season is played out.
Most Madrid players have agree to pay cuts
In Real Madrid's basketball section, players have already agreed to a wage cut and most of Zidane's first team squad (with some exceptions, among them Toni Kroos according to reports in Germany). The idea is for those who take home high pay packets to agree to earn less so that the rest of the professional playing staff at the club are protected - their wages would remain the same which would mean Madrid would not have to apply to the government to enforce temporary redundancies.
The situation is calm at the club in spite of all of the uncertainty. The European Club Association (ECA) recommends an efficiency ratio (the percentage of the total wage bill in terms of total income) under 70%. At Real Madrid, that ratio is 52% - well withing the parameters. The club's total wage bill (including over 800 employees) is 394 million euros and annual income is 757 million. Of the 394 million euros destined to pay club workers, 283 corresponds to the pay packet of the first team squad's players and coaching staff.