Real Madrid: Aouar, the Benzema protégé tipped for Los Blancos
Lyon starlet Houssem Aouar, who Real Madrid striker Karim Benzema has taken under his wing, is now being linked with a move to the LaLiga giants.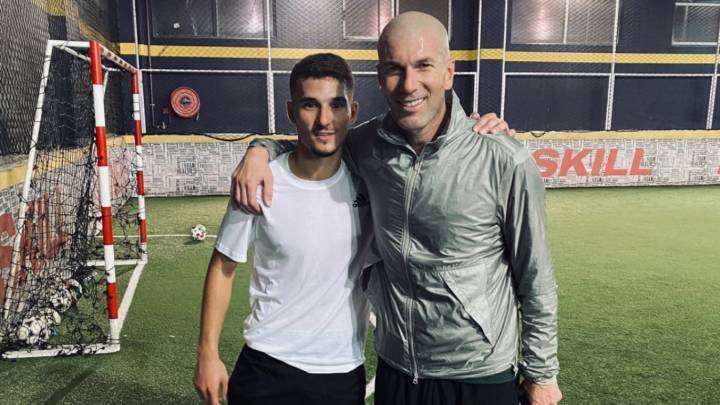 In football, as in life, it always helps to have friends in high places, and Houssem Aouar has one in a very high place indeed: Karim Benzema. The latest hot prospect to emerge at Olympique Lyon (together with Rayan Cherki), Aouar is a 21-year-old attacking midfielder with an eye for goal - he had hit nine before Ligue 1 was suspended as a result of the coronavirus pandemic - and is being more and more heavily tipped for a future move to Real Madrid.
Los Blancos' head coach, Zinedine Zidane, has long been keeping an eye on the best that the French market has to offer, and has in fact had the opportunity to get to know Aouar in person. The pair played together in an informal indoor match while on holiday in Dubai in December, in what was a dream come true for the youngster. "It's Zidane who made me fall in love with football," Aouar says.
Real Madrid target Aouar taken under Benzema's wing
"Benzema gives me advice," Aouar also revealed recently. Their friendship goes back a number of years - having always lived close to one another in the suburbs of Lyon, their families know each other - and the defining moment in their relationship came in 2017, when Benzema took to Instagram to introduce Aouar, who had not yet made his first-team debut, to his millions of followers.

"This lad's really good, if he works hard he could go far," Benzema said of a player who by then had already turned down an approach from Liverpool. A photo of the two together in one of the Madrid striker's visits home did the rest. Benzema has taken Aouar under his wing to the point that the 32-year-old's representatives now also handle some of the Lyon player's image rights.
That's not all they have in common: both are of Algerian heritage (like Zidane), and although Aouar has represented France at under-21 level, the North African country is pushing hard to secure his allegiance, with the Algerian national coach and FA president both travelling to Paris last summer for talks with the midfielder, in a bid to convince him to declare for them. Given Benzema's conflict with the French Football Federation, there was speculation at the time that the Real Madrid man might have had a role to play in Algeria's overtures.

Guardiola heaps praise on "incredible" Aouar
Until the coronavirus crisis brought the season to a halt, Aouar had been one of the stand-out performers in France in 2019/20, leading to a growing list of admirers. "He's incredible," said Manchester City boss Pep Guardiola after coming up against him in the Champions League. In the United Kingdom, The Sun has reported that City, Liverpool (again) and Madrid are the clubs who have enquired about Aouar's situation at Lyon, where he is under contract until 2023 and, incidentally, is represented by a former Paris Saint-German director.
Benzema's protégé is a man in demand.