Coronavirus US Disaster declaration: what is it and how it works
The Stafford Act can be used once emergency is declared and with the USA currently in a national emergency due to coronavirus, we look at what that means.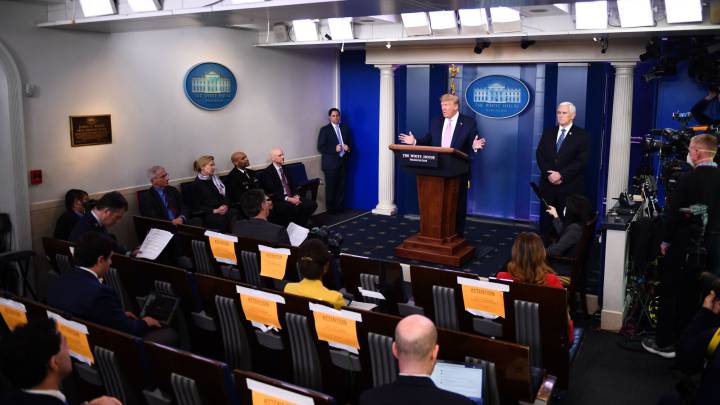 Donald Trump has declared disaster in 50 US States after Wyoming was the last to do so over Easter Weekend. The current situation in the US is bleak with over 20,000 people dying from the coronavirus and over half a million confirmed cases. They overtook Italy as the country with the most deaths recently and while Trump continues to talk about re-opening the country, the USA is in a state of emergency.
What is a disaster declaration or state of emergency?
"I am officially declaring a national emergency. Two very big words," said Donald Trump. With the state of emergency declared, The Stafford Act (1988) will come into play. "We have very strong emergency powers under the Stafford Act," Trump told reporters in the Oval Office at the beginning of the pandemic. "I have it memorized, practically, as to the powers in that act. And if I need to do something, I'll do it. I have the right to do a lot of things that people don't even know about."
According to Vox media, what the declaration will do primarily is free up funds for states to use to pay medical staff and improve facilities in an effort to improve patients' care across the board. The money can be put towards transporting patients, buying equipment and other emergency relief.
What is the Stafford Act?
"Under the Stafford Act, which was passed in 1988, once a president declares an emergency, the Federal Emergency Management Agency (FEMA) is able to funnel money from its $42 billion disaster fund to various state governments," Vox reports.
The laws differ in each state as to what constitutes an emergency and a state of emergency does not have to be called in order for governers and state officials to act as though there was one. That is not currently an issue, however, given the declaration of disaster in all 50 states.
For example, in 2000 with the West Nile breakout in New York and New Jersey, Bill Clinton used a Stafford Act emergency declaration to help pay to control mosquitos. It was also used furing Trump-era emergencies such as Hurricane Maria and the California wildfires.