2020 NFL Draft guide and how it works during coronavirus crisis
The NFL Draft date may not have altered but much has changed about the NFL Draft. Confused? Let us help you with this NFL Draft guide during coronavirus.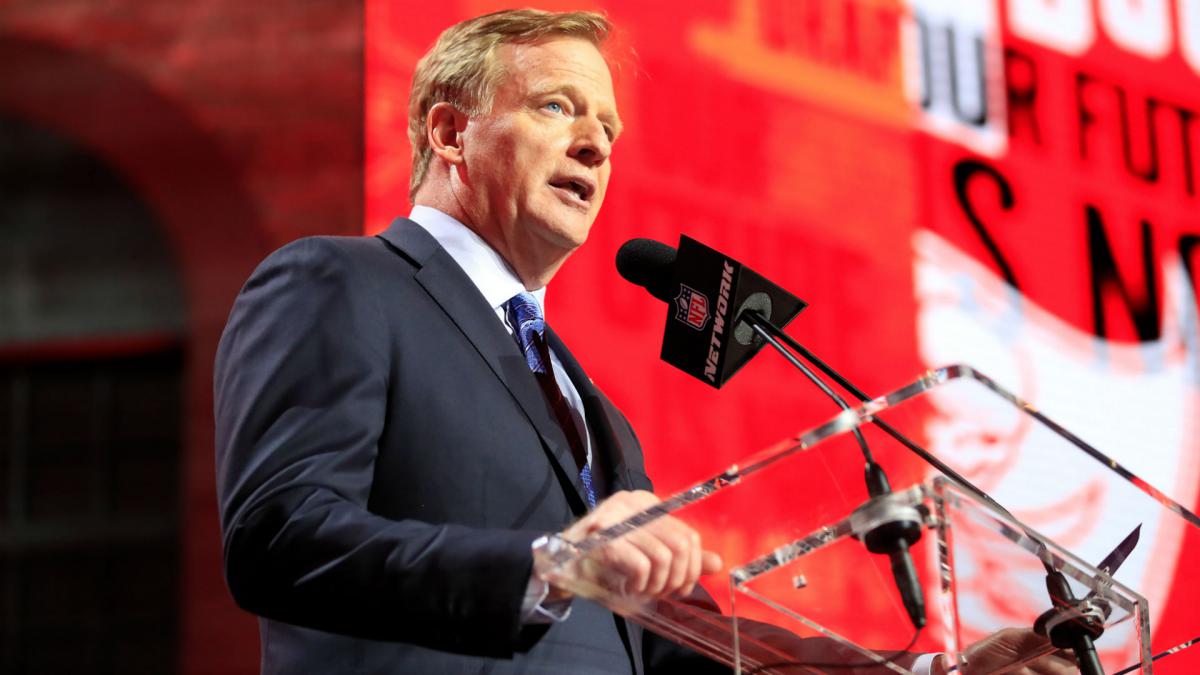 The NFL Draft is happening this year, just not as you know it.
Despite the coronavirus pandemic, the show will go on. Well, to a degree, just not the type of show we have become accustomed to in recent years.
The 2020 edition was meant to be a showcase for Las Vegas, now home to the Raiders following their move from Oakland. However, rather than taking place in the city where the house so often wins, the event will unfold from homes instead.
So how will this all work, then? Let us try to explain...
WHEN IS THE NFL DRAFT TAKING PLACE?
Still on the original dates, so the first round is on Thursday, April 23rd 2020. The second and third rounds are to take place the following day, while rounds four to seven will complete proceedings on Saturday.
The NFL decided against delaying the process, despite seemingly all sport around the world being on hiatus due to the health crisis.
The problem faced by the organisation was clear: if not now, then when? The uncertainty surrounding when restrictions will be lifted remains, particularly as it could be on a state-by-state case, with a delayed draft having ramifications for the rest of the offseason schedule.
RIGHT, SO WHERE IS THIS ACTUALLY HAPPENING?
Roger Goodell's basement. No, really.
The NFL commissioner is used to being on stage for the first round, announcing the selections before welcoming those present at the location onto the stage for uncomfortable hugs and a plethora of pictures.
However, Goodell - accompanied by a tech expert - will instead be on duty at his New York abode, where there will obviously be no green room. Social distancing means prospects could not be grouped together in a small space waiting to hear their name called anyway.
The simplicity of it all is in stark contrast to the grand plans Vegas had in place, including boat rides for players to a stage set up on water at the famous fountains at the Bellagio.
Still, the main positive for Goodell is that he should avoid being booed this year, though expect some on social media to get creative with what has become an annual draft tradition.
HOW WILL TEAMS MAKE THEIR PICKS?
Again, the usual process has needed to be adapted to fit in with these unprecedented times.
Team facilities remain closed for now, so it is remote working for those involved in the selection process. While we have become accustomed to scenes from inside franchise headquarters of important-looking football people sitting around giant tables with laptops open and whiteboards in the background, that will not be the case this year.
According to ESPN, the NFL has worked to test internet connections and install safeguards ahead of a video conference involving all 32 teams, as well as a different broadband connection with league officials. Trades will be tricky, but the league has a system in place to receive deals.
If there happens to be an issue, a team can either phone in their pick or send in a name via email. As of yet, there is no plan to change the timings for selections, so it works as follows:
Round 1: 10 minutes
Round 2: 7 minutes
Rounds 3-6: 5 minutes
Round 7: 4 minutes
This is a time when all involved hopes their WiFi coverage holds up. The rest of the family may have to stay offline while business is being conducted.
WHAT ABOUT THE PLAYERS?
The switch from college to pros is confirmed when your name is read out. That does not change, even if the circumstances are different.
The NFL has plans to make sure some of the leading names are available online, sending out "tech kits" to the top 58 prospects, but players will obviously not be able to gather together at a location with too many family and friends to celebrate the life-changing moment.
While the NFL Combine went ahead as planned earlier in the year, most have had their pro days - an occasion offering them another chance to impress - either cancelled or held behind closed doors. There has also been no opportunity for franchises to hold individual meetings.
With teams unable to complete their usual level of due diligence when it comes to scouting, it will be fascinating to find out how they will alter their approach accordingly.
Every pick is a calculated gamble - only this time there feels to be a little more risk involved.
WE ARE STILL ABLE TO WATCH, RIGHT?
Absolutely. At a time when fans are starved of live sport, the 2020 NFL Draft will be a feast to sate the appetite, at least for a few days.
ESPN and NFL Network will be working together to offer coverage of all seven rounds, while ABC will present its own telecasts for the first two days.
Sky Sports is broadcasting the entire event for its customers in Britain.
RIGHT, ANYTHING ELSE TO KNOW?
Yes, one extremely important thing, actually.
In consideration of what is going on in the world right now, the NFL has declared this a 'Draft-A-Thon', serving as a three-day fundraiser to provide funds in the battle against COVID-19.
Six non-profit charities, as selected by the NFL Foundation, will benefit. They are:
- The American Red Cross
- CDC Foundation's All of Us
- Feeding America's COVID-19 Response Fund for member food banks
- Meals on Wheels COVID-19 Response Fund
- The Salvation Army
- United Way's COVID-19 Community Response and Recovery Fund
The league will also pay tribute to healthcare workers and first responders who continue to go about their jobs during the ongoing situation.
"The Draft-A-Thon will deliver much-needed funding to many who are suffering as well as those on the front lines of the COVID-19 pandemic," Goodell said in a statement from the NFL.
"Conducting this event virtually, and taking all necessary precautions while doing so, underscores the importance of staying home and staying strong during this unprecedented moment in our history."
These are unprecedented times, and the NFL is doing their bit to help out. Whatever unfolds from Thursday onwards, we will never forget the 2020 draft.