Carvajal: no challengers to Real Madrid right back's mantle
With his current deal at Real Madrid set to expire in 2022, Dani Carvajal wants to extend his contract until 2026 with his ultimate goal being to retire at the Bernabéu.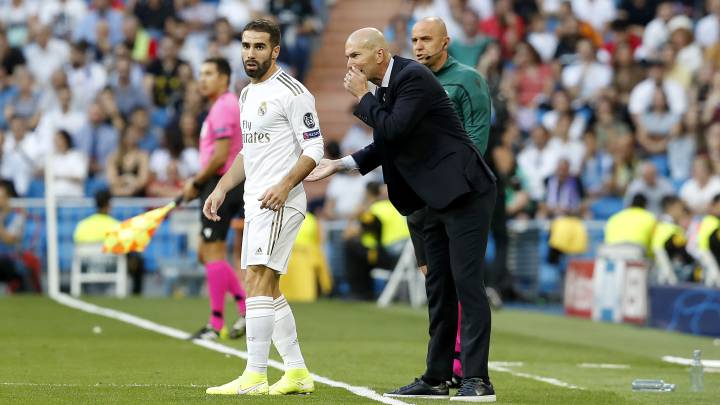 Dani Carvajal is and will continue to be Real Madrid's undisputed starter at right back. As many as three different players (Odriozola, Nacho and Militao) have been deployed at his post on the few occasions that Zinedine Zidane has decided to give him a rest this season. But none of these three have managed to rise to the levels of the lad who played his first game in the white of Madrid at Valdebebas on May 12, 2004 as a member of the U-12 team.
Carvajal, now 28, has two more seasons left on his contract and his plan, following the advice of his agent, Ginés Carvajal, is to extend his current deal until 2026, with his ultimate goal being to retire at the Bernabéu. That would see him become a one-club man, a title that was not achieved by more recent fellow Fábrica academy gems like Raúl, Casillas and Guti.
Real Madrid feel Carvajal's absence
The undisputed owner of the number 2 shirt, Carvajal is a permanent fixture for Zidane as the numbers show. This season he has accumulated 2,910 minutes, playing six of the seven Champions League fixtures to date (only resting against Club Brugge when group qualification had already been secured) and the completing all minutes of the Super Cup in Saudi Arabia, overtime against Atléti included.
He has played most league games this season, only fixtures against Osasuna at home (where Odriozola took his place); against Mallorca in order to rest for the Champions League (Odriozola played poorly and was sent off in what was the first defeat of the season); against Valladolid due to suspension (Nacho stepped in for him and did well, scoring the winning goal); and in the last outing against Betis. Zidane opted for Militao for tactical reasons but his decision backfired as Madrid lost 2-1 at the Villamarín. The Brazilian was out of his depth on the right flank, where Betis took full advantage.
His absence in cup games was also felt. He played in the victories against Unionistas and Real Zaragoza, but was rested by Zidane for the tie against Real Sociedad at the Bernabéu. This time Nacho was called in but the Spanish defender had a disappointing performance much like the rest of the team mates, with Madrid losing the game 4-3 and, subsequently bowing out of the competition.
These results go a long way in explaining Zidane's endless trust in 'Dani'. It should not be forgotten that he left Castilla for Bayer Leverkusen in 2012 and returned a year later after an impressive season in Germany which saw his inclusion in the Bundesliga's Best XI at the end of that campaign. Carlo Ancelotti put his trust in him from day one and ten months later Madrid secured their tenth European Cup title.
Carvajal: a Real Madrid dressing room leader
Carvajal's strong personality has earned him the respect of the dressing room where, after Sergio Ramos, he commands the utmost attention when he speaks up. The Castilla-graduate-turned-Bernabéu-stalwart has now played 269 games for Madrid, providing six goals and 45 assists.
Carvajal's ownership of the right back position would explain why Achraf Hakimi, currently on loan and shining at Dortmund, has his doubts about returning to Madrid, despite that being the young Moroccan defender's dream; why Odriozola was eventually sent on loan to Bayern Munich in January; and why Nacho remains in a complicated situation that could see him leave this summer. For now, none of these players can come close to challenging for Carvajal's mantle.