CORONAVIRUS
May stimulus checks: what do Trump and White House say about it?
Donald Trump says they are discussing a second stimulus check and the White House's economic advisor says the odds are high that there will be another round of checks.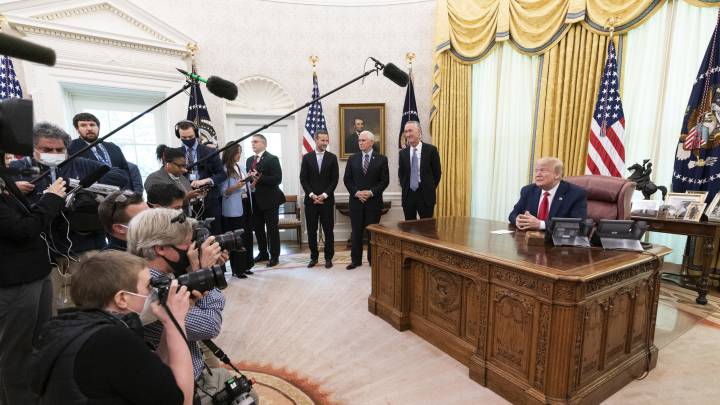 Donald Trump has created a row over stimulus checks in the US by insisting on putting his name on the letters sent out to families with the checks inside. During the coronavirus, US families have been receiving checks in the post to help them during what is a difficult time economically for millions of Americans.
"Americans interact with the IRS more than any other federal agency. It's critical that the agency not be perceived as partisan and working on behalf of the president's reelection campaign," Senate Finance Committee ranking member Ron Wyden(D-Ore.) said Friday in a statement to The Hill. "Putting the president's name on economic impact payment checks and his signature on direct deposit notification letters undermines that nonpartisan reputation."
There are still millions of Americans waiting for their checks but there is already talk of a second stimulus check in May and beyond potentially.
Stimulus checks: when is the May deadline and who does it affect?
White House economic adviser Kevin Hassett tells reporters the administration is "studying carefully" whether to provide those who qualify with another round of stimulus checks beyond the one-time, $1,200 direct payments. Says it could be included in a phase 4 deal.

— Geoff Bennett (@GeoffRBennett) April 28, 2020
Odds of a second stimulus check are high

The president of the United States there could be another round of payments. "We could very well do a second round of direct payments," President Donald Trump said while answering press questions earlier this month. "It is absolutely under serious consideration."
Kevin Hassett, the White House economic advisor also said that "I think that's something that we are studying very carefully, that I know that people in the House are as well" when asked if they were considering providing another round of stimulus checks in May.
"I expect it is very likely there will be a phase four deal and we're going to be speaking with the president throughout the week about what he thinks should be in there," Hassett said.
"I know that Senator [Mitch] McConnell and Speaker [Nancy] Pelosi are working on that as well. So, I think the odds of there not being another round, at least another round of legislation are pretty low," he continued.
One proposal suggests sending checks of up to $2,000 a year to every adult for up to a year in an effort to prevent families from falling further behind on bills and to do grocery shopping. There are still several hurdles to overcome, however, in terms of pushing such a proposal through the senate.