US intelligence investigating Covid-19's origins
Donald Trump's administration is putting pressure on US intelligence agencies to provide evidence of the source of the coronavirus outbreak in the country.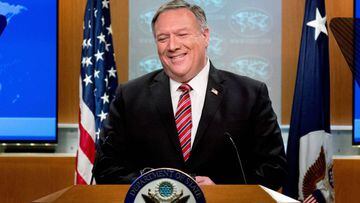 Since the United States went on lockdown in mid-April, the country has rapidly become the world epicenter of the novel coronavirus, with the highest numbers of confirmed cases and deaths. Since the start outbreak Donald Trump's government has been keen to locate the source of the virus and they are putting pressure on the US intelligence agencies to give them answers.
It appears that President Trump wants the agencies to provide evidence supporting claims that the coronavirus outbreak originated in state-run laboratories in China. However, intelligence analysts warn that Donald Trump is looking for propaganda to be used in the escalating blame game over whether China covered up the crisis or even generated the virus in its laboratories.
Since the start of the outbreak the general consensus among scientists has been that the most likely explanation is that Covid-19 originated in bats, possibly jumping to humans via an another species. On Sunday, U.S. intelligence agencies in a rare public statement said that the coronavirus was "not man made or genetically modified."
"The entire Intelligence Community has been consistently providing critical support to U.S. policymakers and those responding to the Covid-19 virus, which originated in China. The Intelligence Community also concurs with the wide scientific consensus that the Covid-19 virus was not man made or genetically modified," the statement from the Office of the Director of National Intelligence reads.
The United States supports its original theory
Trump has claimed that China's handling of the pandemic is proof that Beijing "will do anything they can" to make him lose his re-election bid in November. The US secretary of state, Mike Pompeo, has repeatedly suggested that the coronavirus could have come from a virology laboratory in Wuhan, after cables surfaced from early 2018 in which US diplomats expressed concern about safety standards at the facility.