Coronavirus India news summary: cases and deaths - 7 May
Coronavirus live India: latest Covid-19 news - 7 May
India Covid-19 update: 02:00 IST on Friday 8 May (22:30 CEST) Thursday 7 May.
According to the latest figures published by Johns Hopkins University, 3,815,561 cases have been detected worldwide, with 267,456 deaths and 1,266,470 people now recovered.
In India, there have been 56,351 cases confirmed, 1,889 people have died and 16,776 people have recovered from the virus.
World food prices fall sharply in April because of coronavirus -U.N.
World food prices fell for a third consecutive month in April, hit by the economic and logistical impact of the coronavirus pandemic, the United Nations food agency said on Thursday.
The Food and Agriculture Organization (FAO) food price index, which measures monthly changes for a basket of cereals, oilseeds, dairy products, meat and sugar, averaged 165.5 points last month, down 3.4% on March.
The FAO sugar price index fell to a 13-year low, plunging 14.6% from March, with the coronavirus crisis hitting demand and tumbling crude oil prices also reducing the need for sugarcane to produce ethanol, the Rome-based agency said.
Buddha Day in Dehli
Indian women wait in queue to receive free food, as India remains under an unprecedented extended lockdown over the highly contagious coronavirus in New Delhi, India.
Vesak also known as Buddha Jayanti, Buddha Purnima and Buddha Day, is observed to celebrate the birth anniversary of Gautam Buddha, the founder of Buddhism. However, the occasion lacked its traditional fervor as religious gatherings remain banned in India as the country reels under a lockdown imposed by the government on March 25 to prevent the spread of coronavirus which has claimed over 1,700 lives and caused over 50,000 infections so far.
GSK sells $3.4 bln Hindustan Unilever stake in largest India block trade
GlaxoSmithKline has sold its stake in Unilever's Indian business for $3.4 billion, marking India's largest block trade, which will help the British company in its goal of reinvigorating its drug development pipeline.
The transaction GSK announced on Thursday comes as it pursues a two-year programme to split into two entities after it made costly bets on experimental cancer treatments and future cell and gene therapies amid sluggish revenue growth.
India to roll out COVID-19 app for Reliance's JioPhone in bid to widen use
India will within days roll out a version of its coronavirus contact-tracing application that can run on mobile carrier Reliance Jio's cheap phones, as it looks to increase the reach of the system, a senior government official said on Thursday.
India, which has imposed the world's biggest shutdown to battle the spread of the coronavirus, last month launched the Aarogya Setu (Health Bridge) app -- a Bluetooth and GPS-based application which alerts users who may have come in contact with people who later test positive for COVID-19.
Ready made for lockdown
"There are times when they would like to put a meal together from scratch but at other times they would want something quicker, minus the chores. This is where ready-to-eat and ready-to-cook is seeing increasing demand."
Younger people sadder and lonelier
People under 35 have been made sadder and lonelier than older adults as a result of the coronavirus lockdown, a European survey found, concluding that the strain of being separated from friends and family was taking a tougher toll on the young.
The report, from an online survey of 85,000 people across the continent by the European Foundation for the Improvement of Living and Working Conditions, found a sharp deterioration in reported quality of life among all ages. With most Europeans confined to their homes by the coronavirus outbreak, 16% said they were lonely 'all or most of the time' over the past two weeks, up from just 6% who described themselves as lonely in surveys before the crisis.
There were differences across countries, which may reflect how long they have been in lockdown or how severe the crisis has been. Greeks and Bulgarians reported the lowest level of life satisfaction. Loneliness was most common among the French. Optimism was below average in countries hardest-hit by the virus, including France, Italy, Belgium and Spain.
People line up to buy alcohol at a liquor shop after the government eased a nationwide lockdown imposed as a preventive measure against the COVID-19 coronavirus, on the outskirts of Chennai on May 7, 2020. (Photo by Arun SANKAR / AFP)
India in danger of 'multiple famines'
According to The Guardian, the UN has said the threat of multiple famines looms in India. Mark Lowcock, the under-secretary-general for humanitarian affairs, said the worst effects of the crisis would be felt in the world's poorest countries.
"Unless we take action now, we should be prepared for a significant rise in conflict, hunger and poverty. The spectre of multiple famines looms," he said.
Indian cases passes 50,000
India's confirmed cases has passed 50,000 and continues to rise. This comes on the back of the spokesperson for the ministry of health saying "the Covid-19 curve in India is relatively flat as of now and if work is done collectively, then the peak may never come."
"The [government] is ready to help in every way possible. Be it manpower increase, capacity building, technical assistance etc. or any kind of handholding that is required to manage the situation," the minister for health, Harsh Vardhan said Maharashtra, said at a meeting with state health officials.
India, with 20.1 million births, tops nations with the anticipated highest numbers of births in the nine months since the pandemic's declaration, the UN body said.
Innovation in these incredible sombre times. There will be further room for innovative and invention as the 'new normal' becomes more and more of a reality.
Modi's government in India is coming under pressure for opening liquor stores but also the crisis faces by thousands of misplaced migrants. "First ask the central government to provide food, clothes to everyone and take back all the migrants who are stuck somewhere. Is this necessary to drink alcohol?" asks congress leader Idris Ali.
India's coronavirus infections jump past 50,000, fueled by Mumbai, Delhi
Coronavirus cases in India rose past 50,000, the health ministry said on Thursday, with the pace of new infections showing no signs of abating despite a strict weeks-long lockdown in the world's second-most populous country.
India added 3,561 cases, taking its total 52,952 - behind over 82,000 in China where the virus originated - while the death toll rose by 89 to 1,783, still low compared with the United States, United Kingdom and Italy.
Officials attributed the low toll to the government's move to impose a stay-at-home order on the nation's 1.3 billion people early in the cycle, but noted a spurt in cases from the densely packed economic centres of Mumbai, Delhi and Ahmedabad.
An Indian worker sits on piles of bananas as he drives a horse cart amid the ongoing coronavirus emergency lockdown in Amritsar, India, 07 May 2020. India extended its lockdown by two weeks until 17 May 2020 however some relaxation came into effect on 04 May.EFE/EPA/RAMINDER PAL SINGH
A pause...
We're going to take a break from our live coronavirus coverage for a couple of hours, but we'll be back before you know it to bring you the latest developments and figures in the Covid-19 crisis throughout Thursday.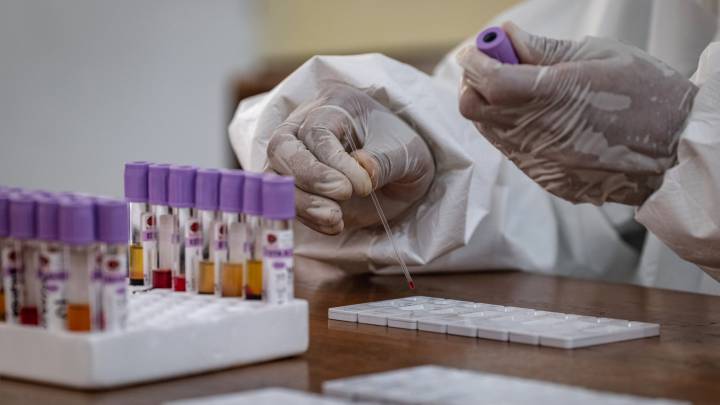 Coronavirus: New, dominant strain could beat vaccines
New, dominant coronavirus strain could beat vaccines
According to a study carried out at a lab in the US, the mutation that has occurred in the dominant strain of the virus makes it particularly dangerous.
Full story:
"Massive evacuation operation"
Almost 15,000 stranded Indians are to be brought home on special Air India flights from 12 countries including the United States, the United Kingdom and Saudi Arabia, with the passengers paying for their air fares and going into quarantine when they arrive.
"Corona will lose, the world will win"
A Buddhist monk wearing a protective mask holds a placard with a message of hope in the fight against coronavirus in front of a statue of Lord Buddha on the eve of his 2564nd birth anniversary at a monastery in Bhopal, India. The Buddha Purnima festival, which falls on the full moon night in the month of Vaisakha (either in April or May), commemorates the birth anniversary of Lord Buddha, founder of Buddhism, one of the oldest religions in the world. (Photo: EFE/EPA/SANJEEV GUPTA)
India Covid-19 update: 05:00 IST on Thursday 7 May (01:30 CEST)
According to the latest figures published by Johns Hopkins University, 3,744,585 cases have been detected worldwide, with 263,068 deaths and 1,238,250 people now recovered.
In India, there have been52,987 cases confirmed, 1,785 people have died and 15,331 people have recovered from the virus.
Coronavirus live India: welcome
Hello and welcome to our live, India-focused coverage of the coronavirus crisis, which has now registered over nearly 3.75 million cases worlwide.
We'll endeavour to bring you the latest developments and statistics as they emerge throughout the day.