Elber: "Coutinho needs to be more aggressive, he gets weighed down by problems"
Former Bayern striker Giovane Elber spoke about Philippe Coutinho's struggles to adapt to the team: "Everyone hoped to see the player he was at Liverpool".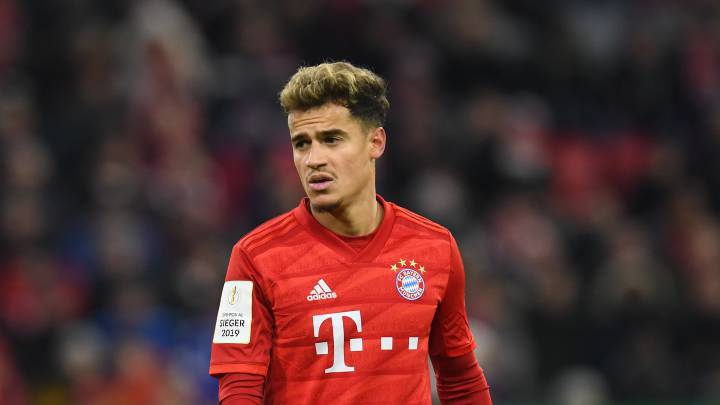 Almost since the moment he joined Barcelona, Philippe Coutinho has been criticised on several occasions for his inconsistency and his brittleness when faced with difficulties. Now fomer Bayern Munich striker Giovane Elber has given his opinion on Coutinho, who he considers "a great player" but lacking an aggressive edge and adds that the Brazilian midfielder seems too prone to let problems affect him.
After months of failing to shine at Barça, Coutinho left Camp Nou to join Bayern Munich on loan last August. In Germany, at a one of the Bundesliga's strongest sides, he had everything needed to succeed. But his eight goals and six assists for Bayern is a poor return, says Elber. "Everyone hoped to see the player he was at Liverpool, where he had some brilliant games, but he joined after a season with Barcelona where things hadn't gone well for him. I think maybe that stuck in his head," Elber told Goal.
Elber feels that Coutinho needs to grow a thicker skin: "I think he's a person who gets shaken very easily when things aren't going so well. He's not a person who thinks, 'I'm Philippe Coutinho and I'm going to fix this'. It's different from one person to another but, during my time, we had some players – Roque Santa Cruz, the Paraguayan, for example – who were like this. There are people who think 'I'm going to nail this game' and there are others that get shaken. I think Coutinho lacks some aggression. It's a shame because he's a great player".
However, Elber does not consider Coutinho to be a lost cause and hopes the midfielder can turn his situation around at Bayern: "I don't know whether Bayern will keep him or not, things can change very quickly in football. I wanted to speak to him but then, the pandemic happened. Although we already have Thiago [Alcántara] helping him, I wanted to give him some advice, talk to him about Bayern and tell him about how we see his situation from the outside. Sometimes, you have to make an easy pass, do the basics, before trying dribbles, or a nutmeg. At the start, you have to have more focus on the team, try to make fewer mistakes and gain confidence. I think he lacks confidence sometimes...".