Barcelona: Dembélé, trapped in no man's land
Three months after his operation, and three months away from being able to return, his future lies away from Barça. Eight injuries, 425 days in the sick bay, he's missed 70 games.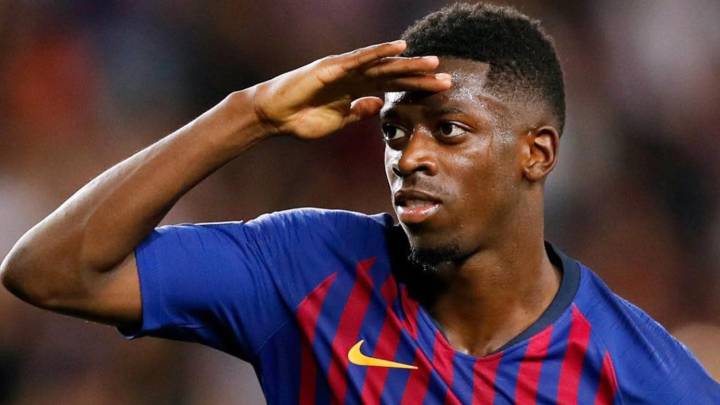 On Monday, it was exactly three months since Doctor Lasse Lempeinen performed an operation on Ousmane Dembélé in Turku Finland, to repair a completely ruptured hamstring tendon at the proximal end of his right leg. At the time, Lempeinen was clear about how long he expected Dembélé to be out of action: "I estimate that he will not be able to play competitively again for six months. The tear was larger than we thought and the operation itself was more complex than the one I performed on him in 2017".
No word from
Dembélé
Dembélé hasn't been seen or heard of since 11 February. He vanished from social media, and wasn't present for the video conference which Quique Setién organised with the squad on 14 April... in theory, he was in self-isolation in Barcelona. Last week however, he was spotted in Paris and he didn't turn up to undergo Covid-19 testing with he rest of the squad on Monday.
Dembélé's future at Barça remains unclear. Lasse Lempeinen, who has closely been monitoring the player's rehabilitation, said that he is sure that by following a strict recovery programme, his best years in football are to come. But three months down the line from that operation, and halfway through the recovery plan, Barça are not so convinced. Last season, Dembélé was told that this was his last chance to redeem himself. It was portrayed as a vote of confidence for the player although at the same time, he was also the club's trump card in the operation to lure Neymar back from PSG. This year, he doesn't even have that in his favour.
Too many injuries for a costly player
During his time at Camp Nou, Dembélé has been inconsistent out on the field of play, where he has displayed dazzling individual skill and boundless energy alongside deficient tactical knowledge and poor reading of the game. For a player who cost 140 million euros, and who has suffered eight serious injuries, it's just not sustainable - he has spent 425 days in the sick bay at Barça and by the time he is able to play again, that figure will be closer to 500.
Off the pitch, his conduct has also left a lot to be desired. Mickael Naya, his former personal chef, explained in an interview with Le Parisien, "Ousmane's a good lad but he doesn't control his life. He doesn't respect the time when he should be resting at all, there is no structure in place within his close circle". Barça hoped he might get his act together once and for all this season. The message from within the club was that Dembélé was now "much more professional" and that he was taking great care over what he ate and his rest time. But the winger fell injured in the opening day meeting with Athletic then suffered a relapse in November in the Dortmund game. Once he had recovered, and Setién gave him a helping hand, he suffered yet another injury, tearing his tendon on 4 February, right in the middle of the war of words between Abidal and Messi.
Another operation, and that was too much for Barça who lost all faith in the player. Doctor Lempeinen admitted that Dembélé is a high risk patient: "The biggest risk when dealing with hamstring injuries is if you have suffered previous problems".
Now the club must decided what to do with Dembélé. It's going to be nigh-on impossible to sell him and so the only viable solution would be to include him in another operation as a makeweight or send him out on loan like they did with Coutinho.